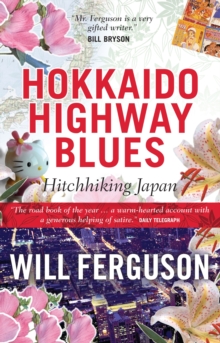 Hokkaido Highway Blues : Hitchhiking Japan
Paperback
Description
It had never been done before. Not in 4000 years of Japanese recorded history had anyone followed the Cherry Blossom Front from one end of the country to the other.
Nor had anyone hitchhiked the length of Japan. But, heady on sakura and sake, Will Ferguson bet he could do both.The resulting travelogue is one of the funniest and most illuminating books ever written about Japan. And, as Ferguson learns, it illustrates that to travel is better than to arrive.
Information
Format: Paperback
Pages: 352 pages
Publisher: Canongate Books Ltd
Publication Date: 05/06/2003
Category: Travel writing
ISBN: 9781841952888
Free Home Delivery
on all orders
Pick up orders
from local bookshops
Reviews
Showing 1 - 5 of 5 reviews.
Review by shawnd
16/06/2015
Starts out fun, but wore on me. There are some funny stories in here, and I did learn a lot about Japanese culture. But partway in I felt like the ratio of anecdotes about the hitchhiking trips vs. Japanese History and the authors' self-analysis about being a foreigner in Japan tilted a lot to the latter. I have to admit I never stuck with it past the first 2/5ths of the book because of that. At points, the book is almost as much a memoir vis a vis Augustan Burroughs or David Sedaris as it is a travel book--and the author's personality is not as endearing.
Review by bowerbird
16/06/2015
The insight into Japanese culture, and the people Will Ferguson meets on his travels seem quite shrewd. I have visited Japan three times, and find this book draws a pretty accurate picture of the country from a Westerner's point of view. The book illustrates customs and practices Some of which seem to us fascinatingly quirky. I love Japan, the cultural differences and the things we can share too. The author portrays this with good nature and humour.
Review by katmeg
16/06/2015
With his very witty style, Will Ferguson shares his experience hitchhiking from the south to the north of Japan following the cherry-blossom 'front'. He had some hilarious encounters along the way and this wonderful book produced many laugh-out-loud moments.
Review by irishdancer2
16/06/2015
It took me a couple months to slog my way through this book, which sounds—falsely—like the beginnings of a bad review. To say that this is an easy book to get through or a quick read wouldn't do it justice. I found myself having to step away after a few chapters just to absorb all the information. For someone preparing for departure to Japan, this was exactly what I was looking for—an exploration of the Japanese culture and where a gaijin fits in that culture. Ferguson does throw in the token bits about Japan that most readers of this book will already know—that Japanese people are smaller than your average North American, that you eat a lot of fish, etc.—but he also goes much deeper than that, waxing philosophic about Japanese history, culture, and foreign relations, as well as how all of these subjects influence one another.I found Ferguson to be a very readable narrator and an equally talented writer. His self-deprecating wit when describing his own experiences acts as the perfect counterbalance to the many pages of factual information, and there were moments when his prose was so beautiful I reread it just for the experience. While there were a few times I cringed at his treatment of a particular person or situation, for the most part I was pleased by the respect he showed his subjects. The only major quibble I had with this book was the very abrupt ending; I turned the page to start the next chapter only to find there was no next chapter. This was disappointing because I really wanted to know what happened next, and the journey felt incomplete.Overall, I would recommend this book to any gaijin looking to delve into the culture of Japan.
Review by amelish
16/06/2015
I don't know if there's any way for me to be fully comfortable with white people who think they understand Japan. It rather impairs my ability to find this book fun, or great, or whatever.