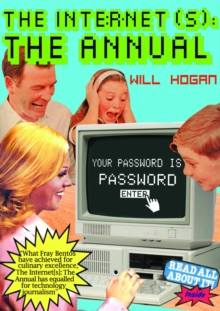 The Internet(s): The Annual : Your Password is Password
Hardback
Description
The Internets: the Annual Ever wanted to know how the internet really works?
Ever wanted to know the true history and bonafide future of the internet?
Ever been patronised by the back cover of a book with continuous inane questions and grandiose claims?
Well we have. And you can be too, just keep reading. The Internets: The annual is everything you may have not really ever wanted to know about the internet and really can't be bothered in asking, but we're going to tell you in words, pictures and fact*.
Like a conceptual monkey clutching a typewriter and stomping around your mind with corrective footwear, the internet is always there and around us, part unwanted relative, part vital element, part mental defecation, part witchcraft; the internet is all of these things and more and this handy annual will help you understand, use, and enjoy the internet in an annual/best of/just like being online format.
Glad that's cleared up. Now enjoy! *Fallacy And Concocted Truth
Free Home Delivery
on all orders
Pick up orders
from local bookshops