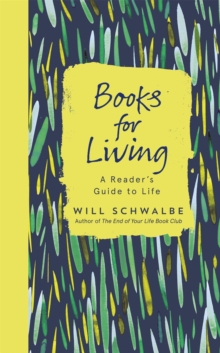 Books for Living : a reader's guide to life
Hardback
Description
From the author of the best-selling The End of Your Life Book Club, an inspiring and magical exploration of the power of books to shape our lives in an era of constant connectivity. 'I'm on a search and have been all my life: to find books to help me make sense of the world, to help me become a better person, to help me get my head around the big questions that I have, and figure out the answers to some of the small ones while I'm at it' Will SchwalbeWhy is it that we read?
Is it to pass time? To learn something new? To escape into another reality? For Will Schwalbe, reading is a way to entertain himself but also to make sense of the world, to become a better person, and to find the answers to the big (and small) questions about how to live his life.
In this delightful celebration of reading, Schwalbe invites us along on his quest for books that speak to the specific challenges of living in our modern world, with all its noise and distractions.
In each chapter, he discusses a particular book-what brought him to it (or vice versa), the people in his life he associates with it, and how it became a part of his understanding of himself in the world. These books span centuries and genres (from classic works of adult and children's literature to contemporary thrillers and even a cookbook), and each one relates to the questions and concerns we all share.
Throughout, Schwalbe focuses on the way certain books can help us honour those we've loved and lost, and also figure out how to live each day more fully.
Rich with stories and recommendations, Books for Living is a treasure for everyone who loves books and loves to hear the answer to the question: "What are you reading?"Books covered include:David Copperfield RebeccaStuart LittleThe Importance of LivingGiovanni's RoomBird by BirdThe Girl On The Train'I used to say that the greatest gift you could ever give anyone is a book.
But I don't say that anymore because I no longer think it's true.
I now say that a book is the second greatest gift. I've come to believe that the greatest gift you can give anyone is to take the time to talk with someone about a book you've shared.
A book is a great gift; the gift of your interest and attention is even greater' Will Schwalbe
Information
Format: Hardback
Pages: 288 pages
Publisher: John Murray Press
Publication Date: 10/01/2017
Category: Literary studies: general
ISBN: 9781444790771
Other Formats
Paperback / softback from £8.89
EPUB from £3.99