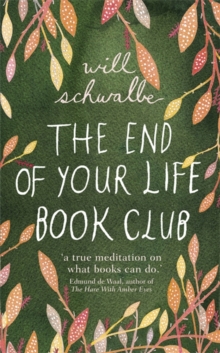 The End of Your Life Book Club
Hardback
Description
'A wonderful book about wonderful books and mothers and sons and the enduring braid between them.' - Mitch Albom, author of Tuesdays With Morrie'a true meditation on what books can do.' - Edmund de Waal, author of The Hare with Amber EyesMary Anne Schwalbe is waiting for her chemotherapy treatments when Will casually asks her what she's reading.
The conversation they have grows into tradition: soon they are reading the same books so they can have something to talk about in the hospital waiting room.
Their choices range from classic (Howards End) to popular (The Girl with the Dragon Tattoo), from fantastic (The Hobbit) to spiritual (Jon Kabat-Zinn), with many in between.
We hear their passion for reading and their love for each other in their intimate and searching discussions.
A profoundly moving testament to the power of love between a child and parent, and the power of reading in our lives.
Information
Format: Hardback
Pages: 352 pages
Publisher: Hodder & Stoughton General Division
Publication Date: 01/10/2012
Category: Memoirs
ISBN: 9781444706369
Other Formats
Paperback from £8.15
EPUB from £2.99
Free Home Delivery
on all orders
Pick up orders
from local bookshops
Reviews
Showing 1 - 4 of 4 reviews.
Review by readingwithtea
16/06/2015
'That's ok, I have a copy,' I told her, which was, in fact, true. There are certain books that I mean to read and keep stacked by my bedside. I even take them on trips. Some of my books should be awarded their own frequent flier miles, they've travelled so much. I take these volumes on flight after flight with the best of intentions and then wind up reading anything and everything else (SkyMall! Golf Digest!). I'd brought Crossing to Safety on so many trips and returned it to my bedside unread so many times that it could have earned at least one first-class ticket to Tokyo on Japan Airlines."Ultimately sad, in that no cancer-defying miracle is forthcoming, but also uplifting in that Schwalbe had so long to come to terms with his mother's imminent passing and to celebrate his mother's life. Part book club record, part memoir of his own life, predominantly memoir for and homage to his extraordinary mother, a woman deeply committed to the needs of those less fortunate. It is obvious that Schwalbe had great love and great respect for his indomitable mother, and is truly grateful for the opportunity to share a beloved activity with her – and the opportunities for difficult conversations that the books provided. In a sense, the memoir will chronicle and assist Mary Anne's legacy of libraries in Afghanistan and refugee camps in Cambodia, of refugees in Liberia and Pakistan and Thailand. This is (between books) the story of a woman who was ground-breaking and revolutionary in a quiet, mild-mannered way.Schwalbe's own life is perhaps less remarkable in events of his own making, but there is an untold story here – he walked away from a very successful career in publishing to "follow his bliss". Throughout, his humility (inherited no doubt from the formidable Mary Anne) lets only a little of his personal achievements shine through – as relentlessly as Mary Anne refused to focus on her pain and suffering, so Will shines the spotlight back to his mother and their shared literary experiences.All of that aside; the books. I slowed my own reading of this by making a note of works as they were mentioned – I wanted to look up a large number of them when I got back to an internet connection. It was only when I got to the end of the book that a clever editor had considerately put a list there! So if you read this, don't worry about making notes as you go along. I wondered, a number of times, quite how Mary Anne, with her enormous programme of humanitarian work and commitments, had time to read so much. But then people look at me askance when I say I'm taking a book a day on a holiday, which I don't understand, so I shouldn't doubt another bibliophile's capacity.Will and Mary Anne read extensively, thematically (although that, perhaps, accidentally), thoroughly and resolvedly. There was always another book to surprise me (that they read and loved The Girl with the Dragon Tattoo was both shocking and pleasing), another book which sounded daunting and impenetrable and an absolute must-read. Their love for literature is very clear, and their willingness to learn from the great (and not great) works of culture is admirable. Each chapter is named for a work that one of them was reading and some lesson that they learned from that work, or a difficult conversation that needed to be had. Schwalbe writes at just the right level about the books – most works get between a few sentences and a few paragraphs, but never more than that. There is a chapter of Tolkien vs. C S Lewis, but that is also mostly about the childhood of the Schwalbe brothers.As one might expect, The End of Your Life Book Club prompted me to think about my own shared reading experiences, but that's fodder for another post.Additional information:Copy kindly provided by the publisher in exchange for an honest review.Publisher: Two Roads, 352 pages (hardback).
Review by kiwifortyniner
16/06/2015
This a moving tribute by Will Schwalbe to his mother, who must have been a remarkable woman. As she faced death through pancreatic cancer the two of them formed a book club to discuss together the books that they read. I thought that it might have been a depressing book but Maryanne Schwalbe faced death the way she lived her life. She lived each day to the full, in the very best way that she could, showing great courage. Their combined insights into the books they read were full of great wisdom, wisdom for each of us to take with us into our own lives, and put in practise each day. An extra benefit of this book was to introduce me to other books that I had not read that I could now put on my list to read myself.
Review by Mercury57
16/06/2015
"What are you reading?" A question that Will Schwalbe had asked his book-loving mother for as long as he could remember. When Mary Anne Schwalbe is diagnosed with pancreatic cancer, the question turns into a device enabling them to talk about difficult subjects like mortality. As they wait in hospital outpatient clinics and attend chemotherapy sessions over almost two years, they discuss books they have swapped and reflect on the resonance each text has for their own lives.These discussions are ostensibly the subject of Will Schwalbe's memoir The End of Your Life Book Club, though in reality, the book is about a son's love for a remarkable woman and the means by which he celebrates her life.A picture emerges of a truly extraordinary woman. After an early career as an actress, she served as director of admissions for Harvard until she made a life-changing visit to a refugee camp in Thailand. Her experience there led her to co-found the Women's Commission for Refugee Women and Children. For years she campaigned relentlessly to bring the plight of refugees to public attention and to raise funds on their behalf, travelling herself at personal risk to the war zones of Afghanistan, Liberia and Sudan. In the final days of her life, she continued to fund raise on behalf of a cause very dear to her heart – starting a travelling library in Kabul.Will Schwalbe punctuates a narrative of innumerable visits to hospitals with the back-story of his mother's life and conversations which reveal a gentle and thoughtful woman with a deep-seated interest in people around her. In one episode we discover she has paid for expensive drugs needed by a woman she met only an hour earlier.And then there are the conversations about the multitude of books they read together (the titles are all listed in the appendix as a helpful guide to those of us who really need to add to our to be read list). This is much lighter fare than Reading Lolita in Tehran. The book discussions are often rather perfunctory, they're not meant to be learned commentaries on style, themes, etc but rather they exist purely as a means to an end, a way of reflecting on 'lessons in life' or introducing the more difficult subject of Mary Anne's condition. A short discussion on David Halberstam's The Coldest Winter leads Mary Anne to reflect:Thats one of the things books do. They help us talk. But they also give us something we can all talk about when we don't want to talk about ourselves.while a reading of Somerset Maugham's The Painted Veil, leads to a discussion about courage shown by missionaries and nuns who forsake homes, countries and children and then onto the courage needed to face pain and likely death. At times the 'life lessons' creep too close to the pedestrian advice found in the kind of self-help books to which I have a complete aversion but occasionally there is a well-observed comment about the ability of reading to bring people together.After reading The Savage Detectives and Man Gone Down Will comments that:these books showed us that we didn't need to retreat or cocoon. They reminded us that no matter where Mom and I were on our individual journeys, could still share books and while reading these books we wouldn't be the sick person and the well person; we would simply be a mother and a son entering new worlds together.The writing isn't wonderful and the ending is – given the subject matter – inevitable. It's not one of the most rewarding books I've read so far this year but there is a comment towards the end that struck a nerve.We're all in the end-of-our-life book club, whether we acknowledge it or not, each book we read may well be the last, each conversation the final one.
Review by julia.flyte
16/06/2015
This is the true story of the two years between when Will Schwalbe's remarkable mother Mary Anne was diagnosed with pancreatic cancer and when she passed away - coincidentally, on the same day as Patrick Swayze who had the same disease. Mary Anne Schwalbe was the founder of the Women's Commission for Refugee Women and Children and worked tirelessly to help refugees and other people whose lives were disrupted by war. Will and his mother shared a love of reading. Together they formed an informal, two person "book club", reading and discussing many books together over the course of her treatment. This book is partly about the books that they read, but it is also about his mother, about their relationship and about coming to terms with death.Reading is more the device around which this book is built rather than the subject of the book. Some of the books that they read get only a paragraph of commentary in the middle of an entire chapter about chemotherapy. Nevertheless it inspires you to read more and to read more widely. However, what will stick with me is not the booklist, but his mother's beautiful spirit and her example of how to live a life well. It's a very moving book.