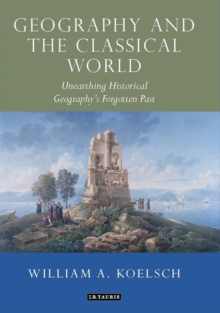 Geography and the Classical World : Unearthing Historical Geography's Forgotten Past
Hardback
Description
In the eighteenth century a new subject emerged that was to capture the interest and imagination of scholars and the educated public for the next 150 years.
Called 'ancient geography' or 'classical geography', its focus was the geographical study of the ancient Mediterranean, in particular the worlds of ancient Greece and Rome. Geographers, explorers, classicists and historians all contributed to its rise, as it flourished in both Britain and America. Yet in the 1920s the subject began to decline, so that its story has been lost. This pioneering volume is the first full-length study to explore the emergence of classical geography and its role in both the geographical and classical traditions.
The author begins with the expeditions sponsored or undertaken by the members of the Society of Dilettanti in the second half of the eighteenth and the early nineteenth centuries.
Expeditions by such figures as Richard Chandler, James Stuart and Nicholas Revett, Sir William Gell, Robert Wood and William Martin Leake, marked a new and more serious study of Greek and Near Eastern landscapes. At the same time, in post-Revolutionary America the Founding Fathers felt it important that Americans should know something of the history and geography of the ancient world, and leading figures such as Thomas Jefferson - a lifelong reader of the classics and a founding father of American geography - and Benjamin Franklin, ensured that classical geography became part of both the school and university curriculum.
Professor Koelsch gives equal prominence to the story as it unfolded in both Britain and America.
He explores the impact and influence of key figures and institutions over a period of almost two centuries.
They range from William Ramsay, Edward Herbert Bunbury, John Linton Myres, Henry Fanshawe Tozer, William Gladstone, Edward Augustus Freeman, and Halford Mackinder in England, to Benjamin Franklin, Thomas Jefferson, Benjamin Rush, Ellen Semple, and John Kirtland Wright in America. The author relates the part that classical geography played in the rise of British geography, through the Oxford School of geography, and in the story of the early American institutions such as the College of William and Mary, the University of Virginia, Harvard University, the College of New Jersey (now Princeton) as well as later universities such as the University of California, Cornell, Johns Hopkins and the University of Chicago. In recovering the trajectory of classical geography from its adventurous beginnings, through its heyday and later decline, the author restores this almost forgotten part of the geographical and classical tradition.
The result is a work of outstanding scholarship that will interest historical geographers, classicists, historians and all students of the classical tradition.
Information
Format: Hardback
Pages: 352 pages, 16 b/w integrated
Publisher: I.B.Tauris & Co. Ltd.
Publication Date: 18/12/2012
ISBN: 9781780760643
Free Home Delivery
on all orders
Pick up orders
from local bookshops
Also in the Tauris Historical Geography Series series | View all