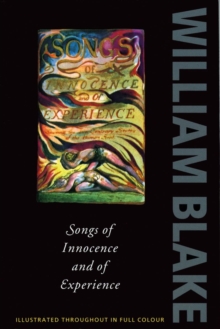 Songs of Innocence and of Experience
Paperback
Description
Blake was one of the finest craftsmen of his time, an artist for whom art and poetry were inextricably linked. He was an indepedent and rebellious thinker, who abhorred pretention and falsity in others.
His Songs of Innocence are products of this innocent imagination untainted by worldliness, while the Songs of Experience resulted from his feelings of indignation and pity for the sufferings of mankind.
The Songs of Innocence and Experience , containing some of Blake's finest and best-loved poems, are presented here in the form which best satisfied the high expectations of his poetic and artistic aspirations. The fifty-four plates which Blake originallly etched and coloured by hand are faithfully reproduced with the same delicacy and dimensions as the artist created them.
Information
Format: Paperback
Pages: 156 pages, 54 colour plates, 1 black and white illustration
Publisher: Oxford University Press
Publication Date: 15/10/1970
Category: Poetry by individual poets
ISBN: 9780192810892
Other Formats
Paperback from £1.99
Hardback from £5.35
Paperback / softback from £5.85
EPUB from £3.99
Free Home Delivery
on all orders
Pick up orders
from local bookshops
Reviews
Showing 1 - 5 of 5 reviews.
Review by JoyE
16/06/2015
This is a beautiful edition of Blake's poems. I've used this a lot in school.
Review by ablueidol
16/06/2015
One of the few poets that have stayed and grown with me. And the artwork!
I started reading this from the age of twelve. Still love it, and find it deeply meaningful.
Review by heidip
27/08/2015
Songs of Innocence and of Experience remains a favorite of mine. The concept is brilliant-- illustrated poetry. Blake paints a beautiful picture with the poem woven into it. The words are so small I'm not sure how he actually got them on there. I told my daughter she should try to do a painting "Blake-style" with a poem woven into the picture.Some of my favorite Blake poems are found in this collection: "The Lamb" and "The Tiger." But I read some new ones that I also really enjoyed. The first half of the book contains the Songs of Innocence and the poems reflect that theme with sweet poems of God and children and Shepherds, etc. Many of these poems in the Songs of Innocence seem like lullabies.The second half contains the Songs of Experience, with more emphasis on pain, poverty, and sin. The cover picture for Songs of Experience is a picture of someone dead on their bed. It sets the tone for the whole last part. Is the first part like the Garden of Eden—Innocence, and Experience--post Garden? The title is Songs of Innocence and Of Experience: Shewing the Two Contrary States of the Human Soul. So is that contrasting good and evil? Here are some examples of his criticism.Holy Thursday was pointed, "Is this a holy thing to see,/In a rich and fruitful land,/Babes reduced to misery,/ Fed with cold and usurious hand?" This was critical of children in poverty.The poem Garden of Love, I found very critical of the church. The garden had a church built there and it was now filled with tombstones instead of flowers; and priests in black robes were binding with briars. Where he used to play was no longer a garden of love! London was very critical of the city. Phrases like "Harlot's curse" "blood down palace walls" "marriage hearse" "Infants cry" etc. really paints a bleak picture of the city.
Review by AmiloFinn
27/08/2015
My copy of William Blake's 'Songs of Innocence and of Experience' features Blake's original plates on one page and his poems typed out on the other. The pictures are strange, ornate, exquisite and the poems are poignant and beautiful, about children and nature, the Chimney Sweeper and the Echoing Green. More famous poems appear in the Songs of Experience, The Sick Rose and the Tyger. The work is visionary and shows sensitivity, depth and a great social conscience.