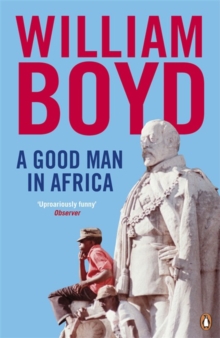 A Good Man in Africa
Paperback
Description
Escapee from suburbia, overweight, oversexed ... Morgan Leafy isn't overburdened with worldly success.
Actually, he is refreshingly free from it. But then, as a representative of Her Britannic Majesty in tropical Kinjanja, it was not very constructive of him to get involved in wholesale bribery.
Nor was it exactly oiling his way up the ladder to hunt down the improbably pointed breasts of his boss's daughter when officially banned from horizontal delights by a nasty dose ...
Falling back on his deep-laid reserves of misanthropy and guile, Morgan has to fight off the sea of humiliation, betrayal and ju-ju that threatens to wash over him.
Information
Format: Paperback
Pages: 352 pages
Publisher: Penguin Books Ltd
Publication Date: 30/03/2010
ISBN: 9780141046891
Free Home Delivery
on all orders
Pick up orders
from local bookshops
Reviews
Showing 1 - 1 of 1 reviews.
Review by Eyejaybee
09/10/2015
What a brilliant novel! I first read it in the early 1980s, perhaps not long after it was first published, and thought it was marvellous. Thirty years later it still seems just as entertaining, with a dazzling mix of humour and tragedy, with a healthy dose of parody of the overwhelming self-satisfaction and unassailable rectitude of European diplomats in post-colonial West Africa.Morgan Leafy, the central figure, is a brilliant creation. Dissolute, lazy and prey to rampant frustration, he spends most of his days struggling to get by doing as little as he can get away with. (I wonder why I identify with him so well!) He is, however, a decent man at heart, though for most of the book he finds little opportunity to demonstrate his inner qualities.Life has not gone to plan for Morgan. As the novel opens he is in his third year in Nkongsamba , a quiet region in the hinterland of Kinjanja, an independent West African state that until recently had been under British suzerainty. He works for the odious Arthur Fanshawe who represents all the hidebound attitudes and prejudices that proliferated in the 1970s. Morgan is sinking into ever deeper despair: he is being blackmailed by an ambitious and relentlessly corrupt local politician, the woman whom he had had visions of marrying has just announced her engagement to his younger, better looking junior colleague, and he has contracted gonorrhoea. And then things start to get worse …Boyd relates the story with his customary pellucid, gripping prose. This was his first novel but he seemed to hit mid-season form almost immediately. Morgan Leafy is not a particularly nice man, but Boyd conjures huge empathy for him as everything seems to go wrong. Corruption abounds. The High Commission is far from blameless in its interventions in local elections, but then most (though not all) of the local politicians are equally opportunistic with an eye on their financial gains rather than the interests of their long suffering electorate. .Overall the novel is exceptionally funny though there are also moments of great poignancy and sensitivity, and even Morgan manages to rise to some occasions and act for the greater good.This was a fine start to what has proved to be an illustrious writing career.