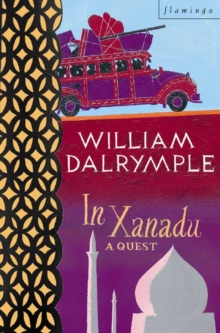 In Xanadu : A Quest
Paperback
Description
One of the most successful, influential and acclaimed travel books of recent years from the author of `Return of a King', which has been shortlisted for the Samuel Johnson prize.At the age of twenty-two, William Dalrymple left his college in Cambridge to travel to the ruins of Kublai Khan's stately pleasure dome in Xanadu.
This is an account of a quest which took him and his companions across the width of Asia, along dusty, forgotten roads, through villages and cities full of unexpected hospitality and wildly improbable escapades, to Coleridge's Xanadu itself.At once funny and knowledgeable, In Xanadu is in the finest tradition of British travel writing.
Told with an exhilarating blend of eloquence, wit, poetry and delight, it is already established as a classic of its kind.
Information
Format: Paperback
Pages: 320 pages, 16 b/w plates (16pp), (1 x 16pp)
Publisher: HarperCollins Publishers
Publication Date: 27/09/1990
Category: Travel writing
ISBN: 9780006544159
Free Home Delivery
on all orders
Pick up orders
from local bookshops
Reviews
Showing 1 - 3 of 3 reviews.
One of those rare travel books so evocative and atmospheric that the reader can smell the markets and the dusty streets of which the author writes. Note that said author was only 22 when he wrote this - many far older would consider a book of this calibre the pinnacle of their writing career - but for Dalrymple, it was his entry onto the scene. Sigh...
Review by nandadevi
16/06/2015
Malti in his review says it very well. It is interesting to note that in 1961 Tim Severin ('Tracking Marco Polo') trod the same path followed by Dalrymple in 1987. Both were in their early twenties, and in both cases their writing and journeying shows tremendous energy, but also a certain thoughtlessness characteristic of somewhat privileged youth (think Oxford and Cambridge Universities). To their credit it is the honesty of their accounts that shows them in such a bad light. Both became much better writers and journeyers later in life. Dalrymple got a little further along the trail of Marco Polo than Severin, and wrote a more substantial book out of it. However, this is certainly a 'lesser' work of Dalrymple's and best sampled after reading some of his later works (and Severin's 'Tracking Marco Polo'), all of which may put you more in mind to overlook its (and his) youthful failings.
Review by thorold
16/06/2015
This was Dalrymple's first book, describing his journey "in the footsteps of Marco Polo" from Jerusalem to the site of Kublai Khan's summer capital in Inner Mongolia, made during the Long Vacation of 1986, whilst Dalrymple was still an undergraduate in Cambridge. The journey was prompted largely by hearing of the opening of the Karakoram Highway and realising that it might now be possible for foreigners to travel overland from Pakistan to Sinkiang. And I think that's the clue to a slight weakness in the book: unlike his strong interaction with John Moschos in <I>From the Holy Mountain</I>, Dalrymple doesn't display any particular affection for the alleged source text. If anything, he makes it clear that he's rather bored with Polo, whose book he characterises as a 13th century business travel handbook to Central Asia. What the book is really about is the process of travel, as experienced in a succession of accidents by a slightly naive young man bumbling across Asia (accompanied by a comically forceful young woman as far as Lahore, and a different, comically feeble one thereafter). This is always interesting and entertaining - Dalrymple is definitely a good writer, even in his early twenties, and the journey itself is a bold and enterprising one - but there's probably a bit too much of the Robert Byrons about it. Albeit without Byron's aggressive nastiness - when Dalrymple makes fun of the locals, he always makes sure that he makes himself look even more foolish than they.