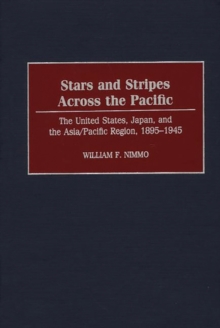 Stars and Stripes Across the Pacific : The United States, Japan, and the Asia/Pacific Region, 1895-1945
Hardback
Description
In the late 19th century, the United States began a period of increased engagement in the Western Pacific--a situation that continues to this day.
Nimmo provides a study of U.S. diplomatic, economic, and military relations with the nations of East Asia and the Pacific from the late 1800s to 1945.
In addition to interaction with China, Korea, and Japan, the book includes U.S. involvement in Hawaii, American Samoa, Guam, and the Philippines.
This one-volume treatment, ranging from the Spanish American War to the Second World War, examines the continuity in U.S. policy during this crucial period. Particular attention is devoted to the U.S. response to Japan's territorial aggression during this period, primarily its undeclared wars against China, in Manchuria in 1931, and in North and Central China from 1937 to 1945. This examination counters revisionist claims that the United States led Japan into war in 1941 and that war could have been avoided by the pursuit of a more conciliatory policy on the part of the U.S.
It explores why it was necessary for the U.S. to demand unconditional surrender and refutes claims that Japan was a victim of the war.
The acquisition of U.S. territory in the Pacific initially began with the annexation of Hawaii and continued with the former possessions of Spain, ceded in the Spanish American War.
Nimmo follows this story through the Philippine War, efforts to promote Philippine independence, the Commonwealth era, and finally independence in 1946.
Information
Format: Hardback
Pages: 312 pages
Publisher: ABC-CLIO
Publication Date: 30/09/2001
Category: General & world history
ISBN: 9780275964535
Free Home Delivery
on all orders
Pick up orders
from local bookshops
Also by William F. Nimmo