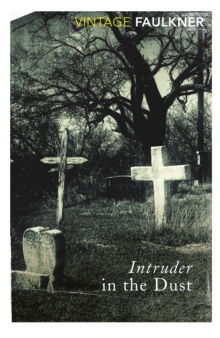 Intruder in the Dust
Paperback
Description
Set in the deep south that provided the backdrop for all of Faulkner's finest fiction, Intruder in the Dust is the novel that marks the final phase of its author's outstanding creative period.
The chronicle of an elderly black farmer arrested for the murder of a white man and under threat from the lynch mob is a characteristically Faulknerian tale of dark omen, its sole ray of hope the character of the young white boy who repays an old favour by proving the innocence of the man who saved him from drowning in an icy creek.
Information
Format: Paperback
Pages: 256 pages
Publisher: Vintage Publishing
Publication Date: 08/08/1996
ISBN: 9780099740315
Free Home Delivery
on all orders
Pick up orders
from local bookshops
Reviews
Showing 1 - 3 of 3 reviews.
Review by fourbears
16/06/2015
Rereading this one I realized why I've never liked To Kill a Mockingbird (which I read after this one) as much as most people. Not that I don't like Harper Lee's novel, just that I see it as simpler, more straight forward and less ambiguous than Faulkner's. Early in the 40ies Faulkner wrote to his publisher about a book he had in mind which would be a "blood-and-thunder mystery novel, original in that the solver is a negro, himself in jail for the murder and is about to be lynched, solves murder in self defense." The main characters are Lucas Beauchamp—descended from white men as well as black—and Charles (Chick) Mallinson who's 16 at the time of novel. Chick has been trading favors with Lucas for several years—ever since he fell through the ice one winter and Lucas gave him shelter, a fire to dry his clothes and some food. Chick has attempted to pay him—assuming it only right that a white man pay a black man for favors, but Lucas wouldn't accept the money. Thereafter whenever Chick tried to reward Lucas, Lucas returned the favor until Chick was downright frustrated with his own attempts to do what he thought the code of his people required him to do. Lucas, because he's white as well as black though, refuses to be "taken care of" by whites. Time and again in the novel someone tells him "if you'd only behave like a black man"…. Lucas, though, absolutely refuses to "act like a black man" in a time when codes were clear and black and white coexisted pretty well as long as both played their proper roles. The novel is at base a mystery novel, with Lucas accused of murder and the family of the dead man determined to burn him alive—but the same code that keeps black and white behavior in sync (and allows retaliation if a black man kills a white man) requires that they not do it on the Sabbath. Lucas is cursed for having committed a murder on a Saturday and making them wait. (There's some humor in all these codes and breaking of codes!) Chick—on the brink of manhood but still a child so that Lucas' code allows him to talk to him where he won't talk to his uncle, the attorney—recognizes both the possibility that Lucas is innocent and the essential "rightness" that he be treated as any other man before the law.I have always bought into Faulkner's sense that righting racial wrongs in this country is everyone's responsibility (I'm thinking primarily of The Bear here), whether they're Southern or not, even whether they're new immigrants whose ancestors never lived here during slavery. His main idea in this novel has to do with the "code" that developed in the South—pre- and post-Civil War—and which required the white man to "take care" of the black man but which resisted any interference from outside the South, on the theory that, in its own time, the South (meaning of course the white South) would solve the discrimination problem without interference from the North or from the government. (Of course it didn't play out the way that Faulkner would have liked—Northerners did "invade" the South in order to jump start the Civil Rights movement—and they met with violent resistance. But that was 20 years after the publication of this novel).
Review by HankIII
16/06/2015
My review: This one would provide good fodder for those who support the burning of books.What I learned from this book: how to suffer in silence and maintain a delusional interest for so long.
Review by bontley
16/06/2015
Well you can't say I haven't tried.