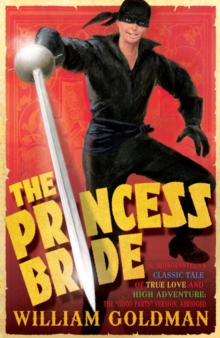 The Princess Bride
Paperback
Description
Beautiful, flaxen-haired Buttercup has fallen for Westley, the farm boy, and when he departs to make his fortune, she vows never to love another.
So, when she hears that his ship has been captured by the Dread Pirate Roberts (no survivors) her heart is broken.
But her charms draw the attention of the relentless Prince Humperdinck who wants a wife and will go to any lengths to have Buttercup.
So starts a fairy tale like no other, of fencing, poison, true love, hate, revenge, giants, bad men, good men, snakes, spiders, chases, escapes, lies, truths, passion and miracles, and a damn fine story.
Information
Format: Paperback
Pages: 336 pages
Publisher: Bloomsbury Publishing PLC
Publication Date: 04/08/2008
Category: Fantasy
ISBN: 9780747590583
Other Formats
Paperback from £7.69
EPUB from £6.39
Free Home Delivery
on all orders
Pick up orders
from local bookshops
Reviews
Showing 1 - 1 of 1 reviews.
Review by MyExpandingBookshelf
16/06/2015
The Princess Bride is my all-time favourite story (you've probably seen me mention this already). I love both the book and the movie. I was 8 years old when I first watched the movie (thanks to my granny recording it for when my brother and I stayed over) and I first read the book when I was around 15/16.The Princess Bride begins with Buttercup and Westley realising their love for one another. Westley travels to America to seek his fortune so he can provide for Buttercup. However, he ends up captured by the Dread Pirate Roberts and Buttercup swears she "must never love again". Enter Prince Humperdinck, who proceeds to put a spanner in the works.So, I love this book! No secret about that! It has almost everything in it - romance, comedy, villains, action and probably the politest duel in history.I also love the way in which William Goldman wrote the book. Using the pseudonym S. Morgenstern he wrote the story but then "abridged" it using his own name and creating a fictional biography for himself. It was done very cleverly and it must have taken some skill to be able to write in two different writing styles interchangeably.And the characters! William Goldman created in depth background stories for all than major characters and this shows you how they have ended up where they are. It provides more depth to their characters and contributes to your love for them. Inigo is brilliant! All he wants is to avenge his fathers death. He is also a true friend to Fezzik and really tries his best to help him i.e. creating rhymes for him. Fezzik is just the gentle giant, very strong but wouldn't hurt a fly if he didn't have to, and he really does try his best. He kind of reminds me of Hagrid. Westley... you can tell he goes through a lot. He turns into a totally different person and becomes more vocal towards Buttercup. He really just wants to prove himself and show his worth (why he goes to America in the first place).The villians. Prince Humperdinck is just what you want in a villian. He is truely evil and will use people purely for his own gain. All he wants is a beautiful wife and will happily dispose of her when he no longer wants or needs her. And Vizzini! You just love to hate him. I hate him more than I hate Humperdinck. He is just so conceited and believes he is superior to everyone.The one character I do have slight trouble with is Buttercup. I'm not altogether sure why Westley puts up with her! She is really quite stupid and can be quite cruel, especially towards Westley at the beginning. She is also quite weak and helpless. However, this could just be a sign of the times in which the book was written. However, to be fair Buttercup does have her own moments of brilliance and quick-thinking.I give The Princess Bride 5/5 as it is such a brilliant story and I have so many childhood memories of watching the movie. I would recommend the book to everyone, especially those that have watched the movie. The movie is a very close adaptation and only omits a few parts but you get a better understanding of the characters when reading the book.