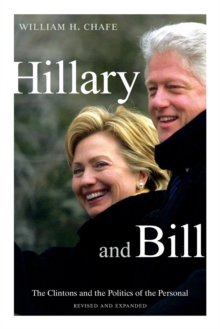 Hillary and Bill : The Clintons and the Politics of the Personal
Paperback / softback
Description
In Hillary and Bill, William H. Chafe boldly argues that the trajectory of the Clintons' political lives can be understood only through the prism of their personal relationship.
Inseparable from the day they first met, their personal dynamic has determined their political fates.
Hillary was instrumental in Bill's triumphs as Arkansas's governor, and she saved his presidential candidacy in 1992 during the Gennifer Flowers sex scandal.
He responded by delegating to her powers that no other First Lady had ever exercised.
Chafe's penetrating insights-into subjects such as health care, Kenneth Starr, welfare reform, and the Lewinsky scandal-add texture and depth to our understanding of the Clintons' experience together.
Hillary and Bill is the definitive account of the Clintons' relationship and its far-reaching impact on American political life.
In this new edition, Chafe explores how Hillary adopted a new persona as a U.S. senator, returning to the consensus-oriented reformer she had been before she met Bill.
Listening to her constituents and building bridges to Republicans in Congress, she left behind the us-against-them political personality of her White House years.
She kept this persona as secretary of state, establishing personal ties with foreign leaders and reaching out to average citizens in the countries she visited.
Still, she retained her obsession with her personal privacy and permitted the Clinton Foundation to create potential conflicts of interest with her government responsibilities.
The key question, as she approached the 2016 presidential race, was which Hillary would be the presidential candidate-the person who reaches out to others and seeks collaborators or the Hillary who demonizes the opposition and fiercely protects her privacy and self-image.
Information
Format: Paperback / softback
Pages: 424 pages
Publisher: Duke University Press
Publication Date: 01/02/2016
ISBN: 9780822362302
Free Home Delivery
on all orders
Pick up orders
from local bookshops
Also by William H. Chafe