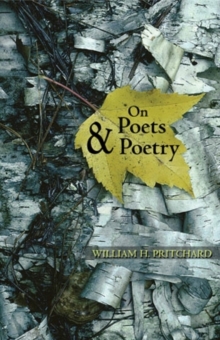 On Poets and Poetry
Hardback
Description
William Pritchard\u2019s collection of essays and reviews on poets and poetry ranges from Dryden and Milton through the major American and British poets of the last century.
One of them, Philip Larkin, answered an interviewer\u2019s question about what he had learned from his study of other poets by snapping back, \u201cOh, for Christ\u2019s sake, one doesn\u2019t study poets!
You read them, and think: That\u2019s marvelous; how is it done?\u201d Although Pritchard has been talking with students about poets for more than fifty years, his practice in writing has Larkin\u2019s question in mind: how to describe convincingly the way it\u2019s done, the \u201cmarvelous\u201d creations of Tennyson, Hardy, Yeats, Robert Lowell, or Larkin himself.
Pritchard\u2019s aim throughout is to address not only academics but the larger, intelligent audience of non-specialist readers who look to poetry for the surprise that is central to all imaginative literature.
Hugh Kenner, one of three twentieth-century critics of poetry treated in this book, once wrote that \u201cthe chief requisite for criticism is not analytic skill but a trained sensibility.\u201d William Pritchard\u2019s sensibility has been trained in the practice of attending to a poet\u2019s style and voice-of what Robert Frost once called \u201cear-reading.\u201d His endeavor is not to discover hidden, buried treasures (what the poem \u201creally means\u201d) but to engage with instances of measured language as they reveal themselves, in both the \u201ctiming\u201d of individual poems and the historical time in which poets and poetry live.
Other Formats
Paperback / softback from £18.85
Free Home Delivery
on all orders
Pick up orders
from local bookshops