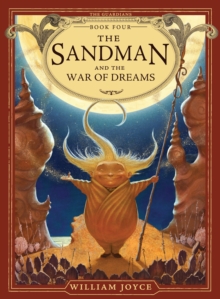 The Guardians #4: Sandman and the War of Dreams
Hardback
Description
When the Man in the Moon brought together the Guardians, he warned them that they would face some terrible evils as they strove to protect the children of earth.
But nothing could have prepared them for this: Pitch has taken Katherine. And now the Guardians are not only down one member, but a little girl is missing. Fortunately, MiM has just the man to join the team.
Sanderson ManSnoozy-known in most circles as the Sandman-may be sleepy, but he's also brave and strong and skilled at utilizing sand in a myriad of ways.
If the rest of the Guardians can just convince Sandy that good can triumph evil, that good dreams can banish nightmares, they'll have themselves quite a squad.
But if they can't...they might never see Katherine again.
Information
Format: Hardback
Pages: 240 pages
Publisher: Simon & Schuster
Publication Date: 01/11/2013
Category: Fantasy
ISBN: 9781442430549
Free Home Delivery
on all orders
Pick up orders
from local bookshops
Reviews
Showing 1 - 2 of 2 reviews.
Review by MaryBethLingner
16/06/2015
"The Sandman" one of William Joyce's guardians of children series is an excellent book which I enjoyed for many reasons. First, the illustrations are absolutely beautiful and depict the "dream-like" feel of the sandman's story perfectly. Each illustration emphasizes Joyce's words accurately and describes exactly what mood he is trying to portray. Without the pictures, this book wouldn't have half the fantastic effect that it does. Secondly, I loved the style in which Joyce wrote the book. The story had a very imaginative feel to it which made it adventurous and fun to read. It was a great example of an entertaining fantasy. Lastly, I thought it was very cool how Joyce gave the "history" on such a classic legend, the sandman. He described to readers how the sandman came to be and defeated Pitch, the King of Nightmares. Joyce also gives vivid descriptions of how the sandman answers all children's dreams and sends forth his "dreamsand" to ward off all nightmares. In my opinion, "The Sandman" has two central meanings. The first one can be summed up in the last three sentences of the book. "So when you've had a good night's sleep and a wonderful dream, you might thank your gentle friend, His Nocturnal Magnificence, Sanderson Mansnoozie, Sandman the First, Lord High Protector of Sleep and Dreams. A Longish name to be sure. But worthy of a diligent dreamer who started his journey as just plain Sandy. When the sandman was about to fight Pitch, the King of Nightmares, he was very afraid. However, he pushed through and conquered his fears in order to protect the dreams of all children. This exemplifies that normal people are capable of conquering very hard and scary things, just like the sandman. You do not have to be strong or powerful to do the right thing, you just have to believe in yourself and have something to fight for. The second central message within, "The Sandman" is to explain to children (through the Sandman's story) that although nightmares are not very common, they still happen sometimes, and to keep in mind when they happen that they are not real.
Review by ElizaJane
16/06/2015
I absolutely LOVE this series and was sooo excited to read this next volume. If you've read the last book, the picture book "The Sandman" then you've already met Sanderson Mansnoozy and know his background story. This book starts with current events but it does retell his background so you don't need to have read the picture book, but who would want to miss such a beautiful book?! This is just such a fast-paced adventurous story where I absolutely heart all the characters that I made myself take two days to read it. I read half one day and finished up the next, just so I could savour and linger over the story. There aren't very many top-notch fantasy novels/series for the 7-11 age group and this is up there with the first Spiderwick Chronicles in my opinion. The illustration is just as appealing as the text. I do want to warn readers though to *stay away* from the movie. It has absolutely nothing to do with these books, this series, AT ALL. It doesn't even have the same characters! Well, the characters look the same and have the same names but they are not the same characters as known in the books. So think of the books and the movie as two separate and non-related entities. But read this series. Adorable elementary fantasy.