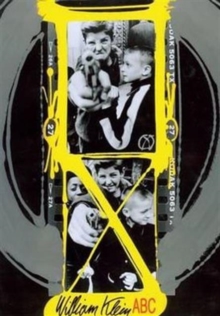 William Klein ABC
Hardback
Description
"Traditional photography books put me to sleep - They were untouchable, academic and boring.
For me, design, graphics and layout were almost as important as the photographs themselves. And that's why I did everything I could to create a new kind of visual book".
William Klein, 1954/5 Born in New York in 1929, painter, photographer, film-maker and graphic artist William Klein is often cited as a tour de force of street photography; however, his influence is far more extensive than that.
His book "Life is "Good and Good For You in New York: Trance - Witness - Revels", created in just three months and published in Paris in 1956, was one of the publishing sensations of the decade.
Ground-breaking in its use of movement blur, high contrast printing, ultra-rapid film, wide angle lenses, cropping and page design, it was followed by photo-essays on Tokyo, Moscow and Paris.
In addition, Klein gained widespread fame for his work as a fashion photographer for Vogue, despite the fact that he had no particular interest in fashion, and for his bitingly satirical films, including "Who are you", "Polly Magoo", "Mr Freedom" and "Le Couple Temoin".
Klein lives and works in Paris. This astonishing book, designed and selected by Klein himself, is a visual history of his long and varied career.
Including iconic images, painted contact sheets, magazine covers and previously unseen images, the book is arranged chronologically from the 1950s through to the present.
The seminal photo-books of the 1950s and 1960s are represented by their graphically powerful jackets and stunning spreads, as fresh and startling today as when they burst upon the world.
Fashion photographs in both black and white and colour, range from moody portraits to filmic, surreal tableaux , revealing Klein's revolutionary impact on the genre.
Film posters and film stills show the ways in which he captured and commented on the spirit of the times, creating biopics of Muhammad Ali and Little Richard and feature films with stars including Donald Pleasance and Serge Gainsbourg.
The journey through Klein's work concludes with a selection of his recent, colour photographs, including the extraordinary scenes he found when shooting in London in 2011 among the crowds during the wedding of Prince William and Kate Middleton.
Information
Format: Hardback
Pages: 192 pages, Illustrated throughout
Publisher: Tate Publishing
Publication Date: 01/09/2012
Category: Individual photographers
ISBN: 9781849760690
Free Home Delivery
on all orders
Pick up orders
from local bookshops