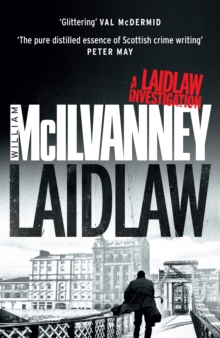 Laidlaw (Laidlaw 1)
Paperback
Description
Meet Jack Laidlaw, the original damaged detective. When a young woman is found brutally murdered in Kelvingrove Park, only Laidlaw stands a chance of finding her murderer from among the hard men, gangland villains and self-made moneymen who lurk in the city's shadows.WINNER OF THE CWA SILVER DAGGER
Information
Format: Paperback
Pages: 304 pages
Publisher: Canongate Books Ltd
Publication Date: 02/05/2013
Category: Crime & mystery
ISBN: 9780857869869
Free Home Delivery
on all orders
Pick up orders
from local bookshops
Reviews
Showing 1 - 2 of 2 reviews.
Review by atticusfinch1048
16/06/2015
An Oldie but definitely a GoodieThis rerelease by Canongate Books of William McIlvanney's defunctive detective is a brilliant reminder as to why he is considered one of Scotland's best crime writers. For people my age, mid – 40s it makes the original Taggert look like a southern softie. This book was originally published back in 1977, and was the first in the Laidlaw trilogy. The novel is set in the 70s with all the fashions and griminess I remember as a kid, what would now be called post-industrial Glasgow, pre-Thatcher.Glasgow has always had the reputation of being a hard man's city, where if you say the wrong thing you could end up with a Glasgow kiss. In the mid-1970s Glasgow was in decline, the tenement slums were at their worst, the shipyards were closing the pubs were rough and the hard men were simply nuts.We are introduced to Detective Inspector Jack Laidlaw as he investigates the sexual murder of Jennifer Lawson, who's father he had met in the early hours of a Sunday when he reported her missing. His daughter was found hidden on Glasgow Green on a Sunday morning minus her panties and completely defiled. It shows how desperate and disgusting the world can be. To assist him in the search he has been given a DC who has transferred into the Crime Squad, and Harkness has been warned that Laidlaw is different and he is to report back to the main inquiry.It is through this background of moral concerns of mid 70s Glasgow and all the social issues that go hand in hand with it. As Laidlaw tip toes his way through the moral decline of the City he used gangland villains such as John Rhodes to act as his ears on the street, if it works is a different matter. We are introduced to some of the gangland villains of Glasgow, and the self made men who could do without the police looking too closely at their affairs.This wonderful crime novel shows the City's dark shadows and how sometimes you need to operate in them to achieve real success. This is a wonderful book with an original defective detective who solves the crime his way which is certainly not how the rest of the Police Force would do it, but he does succeed. Harkness is a willing voyeur on this journey through the harsh Glasgow criminal world on a learning curve and finally respecting Laidlaw.This is a wonderful trip back into the 1970s and the language that McIlvanney used then brings back the image of a decaying Glasgow and the harsh cruel world that operated around the city of the day. With people today walking around with mobile phones this brings memories back when not everyone has a phone at all and the old red phone boxes with your change waiting for the pips. This is a timeless classis well worth reading today.
Review by Daftboy1
16/06/2015
I originally started reading this book over 25 years ago at school but I was too young for it. This is a story set in Glasgow 1977, Laidlaw is a Police Detective investigating a young womans death. There are lots of characters so called hard men along the way that Laidlaw along with his assistant Harkness come across. OK twist at the end I was a bit disappointed though as I really wanted to enjoy this book more. I might still read the other 2 in the series. Still glad I read it though.
Also in the Laidlaw Trilogy series | View all