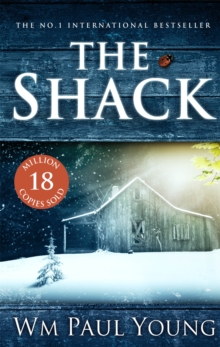 Description
With 18 million copies sold worldwide, THE SHACK is an international bestseller that explores life's toughest questions through the gripping story of one man's struggle to find answers to his suffering.Mack's youngest daughter, Missy, was abducted during a family vacation and evidence that she may have been brutally murdered is found in an abandoned shack deep in the Oregon wilderness.
Four years later, still trapped in his great sadness, Mack receives a suspicious note, apparently from God, inviting him back to that shack.
Against his better judgement Mack arrives at the shack on a wintry afternoon.
What he finds there will change his life forever.THE SHACK wrestles with the timeless question, 'Where is God in a world so filled with unspeakable pain?' Mack's experiences when he faces up to his darkest nightmares will astound you, and perhaps transform you as much as it did him.This is the kind of book you'll want to tell everyone about.
Millions have discovered it already - now it's your turn.
Information
Format: Paperback
Pages: 256 pages
Publisher: Hodder & Stoughton General Division
Publication Date: 01/07/2008
Category: Religious & spiritual fiction
ISBN: 9780340979495
Free Home Delivery
on all orders
Pick up orders
from local bookshops
Reviews
Showing 1 - 5 of 11 reviews.
Previous | Next
Review by kjsmith_2008
16/06/2015
I read this book as fiction and I must admit I like to read and typically do not 'look' for the good/bad/ugly in a book ...i just read because I enjoy it. As a result I liked this book. It let me think a different way about God. That He can be what I might need in god times or bad times. That He wants to be in realtionship with me. I have a few quotes that i liked (pg137) 'Rights are where survivors go, so that they won't have to work out relationships'(pg191) 'My purposes are always and only an expression of love.'(pg196) 'When you don't feel, the world becomes dull and colorless.' I had other quotes but I don't want this to get really long, but suffice to say that I enjoyed this book. Would recommend it to others as I think we need to know that being a Christian is not all about rules and rights but about our relationship to the Father and how are we reflecting that to others ...as someone once said ...you may be the only Jesus some have ever seen. So who are you reflecting?
Review by CatyM
16/06/2015
The premise is intriguing: after receiving a note which appears to be from God, grieving father Mack follows the instructions in the note and returns to the shack where his daughter was murdered. The spiritual insight is occasionally thought-provoking but the theology is not always great. Setting aside minor quibbles, the positive stuff about free will doesn't outweigh the antinomianism. (From my perspective, that is: Calvinists and Catholics will probably have other interpretations and other gripes.) Disagreeing with the theology is not, however, an insuperable problem for me: I can cope with disagreeing with an author's theology. I do it all the time. I don't agree with all of CS Lewis's theology, but I still find his books helpful and profound. In the hands of a really good writer, this could have been a profound book. This was not a profound book. The writing is really, <i>really</i> dreadful. A lengthy foreword (by a character who appears briefly in maybe two scenes) giving a purely descriptive character sketch and backstory outline for the main character is not a good start. It is, however, indicative of the style of the book. This is writing that ought to have been handed back to the author by the editor with "show, don't tell" written across the top in very big, very red letters. In capitals. Underlined. There are jerky shifts between narrative and editorial-style comment, often with a shift of tense. The prose is clunky. The content is trite, unconvincing and sometimes cringe-inducing. The characters are flat and implausible. Far from being caught up in the main character's angst and spiritual development, I felt like his whole backstory was a platform for platitudinous preaching. Three times I put this book down thinking, 'I refuse to subject myself to any more of this'. I skimmed long sections. Twice I hurled it across the room. I picked it up and tried again against my own better judgement. Over the past two years or so, I've been asked many times whether I've read this book; when I replied in the negative, or said that I had a copy on the shelf but hadn't got around to reading it, I was usually told that it was absolutely wonderful and I really ought to read it. I therefore made a conscious decision to keep reading to the end - in order that, when I am asked whether I have read it, I can say that I have indeed read it - from cover to cover - and if necessary explain <i>precisely</i> why I thought it was a very bad book.Avoid.
Review by suekimmet
16/06/2015
I did not like this book.
Review by sainsborough
16/06/2015
Wm Paul Young presumes to put words in God's mouth. This is dangerous, because God is not a fictional character to manipulate at will! And Young seems to positively avoid quoting from the Bible.The book starts off so folksy you want to gag. I read it because it was one of a pool of books swopped and shared by a few of us while on a trip abroad. I found myself wondering if it was written for people with a mental age of 9 (not meaning to insult 9 year olds!).However, on the level of popular psychology, there's food for thought. Example: "Most emotions are responses to perception - what you think is true about a given situation."
Review by tloeffler
16/06/2015
Everyone said you will either love it or hate it. I didn't. It was just okay. There were some interesting observations, but a lot of the story was over the top. Towards the end, I began to feel the insidious itch of shameless self-promotion, and that knocked it down a notch. A good solid *meh*.