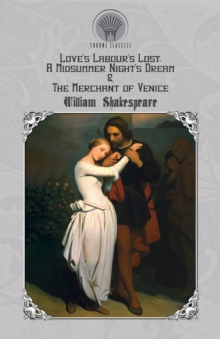 Love's Labour's Lost, A Midsummer Night's Dream & The Merchant of Venice
Paperback / softback
Description
Love's Labour's Lost is one of William Shakespeare's early comedies, believed to have been written in the mid-1590s, and first published in 1598.
The play opens with the King of Navarre and three noble companions, Berowne, Dumaine, and Longaville, taking an oath to devote themselves to three years of study, promising not to give in to the company of women — Berowne somewhat more hesitantly than the others.
A Midsummer Night's Dream is a romantic comedy by William Shakespeare, suggested by "The Knight's Tale" from Geoffrey Chaucer's The Canterbury Tales, written around 1594 to 1596. It portrays the adventures of four young Athenian lovers and a group of amateur actors, their interactions with the Duke and Duchess of Athens, Theseus and Hippolyta, and with the fairies who inhabit a moonlit forest. The play is one of Shakespeare's most popular works for the stage and is widely performed across the world.
The Merchant of Venice is a play by William Shakespeare, believed to have been written between 1596 and 1598. Although classified as a comedy in the First Folio, and while it shares certain aspects with Shakespeare's other romantic comedies, the play is perhaps more remembered for its dramatic scenes, and is best known for the character of Shylock.
The title character is the merchant Antonio, not the Jewish moneylender Shylock, who is the play's most prominent and more famous villain. Though Shylock is a tormented character, he is also a tormentor, so whether he is to be viewed with disdain or sympathy is up to the audience (as influenced by the interpretation of the play's director and lead actors). As a result, The Merchant of Venice is often classified as one of Shakespeare's problem plays.
Information
Format: Paperback / softback
Pages: 464 pages
Publisher: Throne Classics
Publication Date: 24/09/2019
Category: Plays, playscripts
ISBN: 9789353836641
Free Home Delivery
on all orders
Pick up orders
from local bookshops