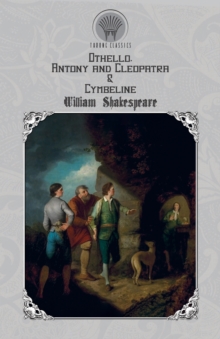 Othello, Antony and Cleopatra & Cymbeline
Paperback / softback
Description
Othello, The Moor of Venice is a tragedy by William Shakespeare based on the short story "Moor of Venice" by Cinthio, believed to have been written in approximately 1603. The work revolves around four central characters: Othello, his wife Desdemona, his lieutenant Cassio, and his trusted advisor Iago. Attesting to its enduring popularity, the play appeared in 7 editions between 1622 and 1705. Because of its varied themes — racism, love, jealousy and betrayal — it remains relevant to the present day and is often performed in professional and community theatres alike. The play has also been the basis for numerous operatic, film and literary adaptations.
Antony and Cleopatra is a tragedy by William Shakespeare. It was first printed in the First Folio of 1623.
The plot is based on Thomas North's translation of Plutarch's Life of Markus Antonius and follows the relationship between Cleopatra and Mark Antony from the time of the Parthian War to Cleopatra's suicide. The major antagonist is Octavius Caesar, one of Antony's fellow triumvirs and the future first emperor of Rome. The tragedy is a Roman play characterized by swift, panoramic shifts in geographical locations and in registers, alternating between sensual, imaginative Alexandria and the more pragmatic, austere Rome. Many consider the role of Cleopatra in this play one of the most complex female roles in Shakespeare's work. She is frequently vain and histrionic, provoking an audience almost to scorn; at the same time, Shakespeare's efforts invest both her and Antony with tragic grandeur. These contradictory features have led to famously divided critical responses.
Cymbeline is a play by William Shakespeare, based on an early Celtic British King. Although listed as a tragedy in the First Folio, modern critics often classify it as a romance. Like Othello, Measure for Measure, and The Winter's Tale, it deals with the themes of innocence and jealousy. While its date of composition is unknown, the play is known to have been produced as early as 1611.
Information
Format: Paperback / softback
Pages: 686 pages
Publisher: Throne Classics
Publication Date: 31/08/2019
Category: Plays, playscripts
ISBN: 9789353836948
Free Home Delivery
on all orders
Pick up orders
from local bookshops