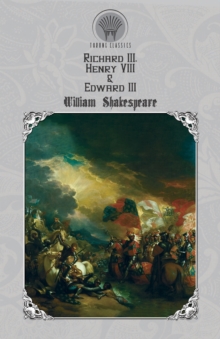 Richard III, Henry VIII & Edward III
Paperback / softback
Description
Richard III is a history play by William Shakespeare, believed to have been written in approximately 1591. The play is an unflattering depiction of the short reign of Richard III of England. While generally classified as a history, as grouped in the First Folio, the play is sometimes called a tragedy (as in the first quarto). It picks up the story from Henry VI, Part 3 and concludes the historical series that stretches back to Richard II.
Henry VIII is a collaborative history play, written by William Shakespeare and John Fletcher, based on the life of King Henry VIII of England. An alternative title, All Is True, is recorded in contemporary documents, the title Henry VIII not appearing until the play's publication in the First Folio of 1623. Stylistic evidence indicates that individual scenes were written by either Shakespeare or his collaborator and successor, John Fletcher. It is also somewhat characteristic of the late romances in its structure. It is noted for having more stage directions than any of Shakespeare's other plays.
During a performance of Henry VIII at the Globe Theatre in 1613, a cannon shot employed for special effects ignited the theatre's thatched roof (and the beams), burning the original Globe building to the ground.
The Raigne of King Edward the Third, commonly shortened to Edward III, is an Elizabethan play printed anonymously in 1596. It has frequently been claimed that it was at least partly written by William Shakespeare, a view that Shakespeare scholars have increasingly endorsed. The rest of the play was probably written by someone else: Thomas Kyd, Christopher Marlowe, Michael Drayton, and George Peele among the top contenders, with recent scholars introducing Thomas Nashe to the fold.
The play contains several gibes at Scotland and the Scottish people, which has led some critics to think that it is the work that incited George Nicolson, Queen Elizabeth's agent in Edinburgh, to protest against the portrayal of Scots on the London stage in a 1598 letter to William Cecil, Lord Burghley. This could explain why the play was not included in the First Folio of Shakespeare's works, which was published after the Scottish King James had succeeded to the English throne in 1603.
Information
Format: Paperback / softback
Pages: 586 pages
Publisher: Throne Classics
Publication Date: 31/08/2019
Category: Plays, playscripts
ISBN: 9789353836825
Free Home Delivery
on all orders
Pick up orders
from local bookshops