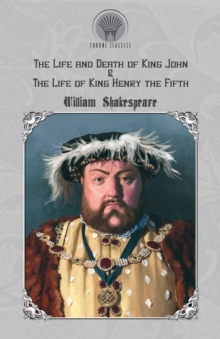 The Life and Death of King John & The Life of King Henry the Fifth
Paperback / softback
Description
The Life and Death of King John, a history play by William Shakespeare, dramatizes the reign of King John of England (ruled 1199–1216), son of Henry II of England and Eleanor of Aquitaine and father of Henry III of England. It is believed to have been written in the mid-1590s but was not published until it appeared in the First Folio in 1623.
Henry V is a history play by William Shakespeare, believed to have been written near 1599. It tells the story of King Henry V of England, focusing on events immediately before and after the Battle of Agincourt (1415) during the Hundred Years' War. In the First Quarto text, it was titled The Cronicle History of Henry the fift, which became The Life of Henry the Fifth in the First Folio text.
The play is the final part of a tetralogy, preceded by Richard II, Henry IV, Part 1, and Henry IV, Part 2. The original audiences would thus have already been familiar with the title character, who was depicted in the Henry IV plays as a wild, undisciplined young man. In Henry V, the young prince has matured. He embarks on an expedition to France and, his army badly outnumbered, defeats the French at Agincourt.
Information
Format: Paperback / softback
Pages: 356 pages
Publisher: Throne Classics
Publication Date: 31/08/2019
Category: Shakespeare plays
ISBN: 9789353837181
Free Home Delivery
on all orders
Pick up orders
from local bookshops