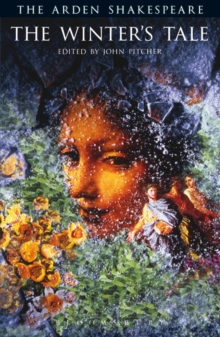 "The Winter's Tale"
Paperback
Description
One of Shakespeare's later plays, best described as a tragi-comedy, the play falls into two distinct parts.
In the first Leontes is thrown into a jealous rage by his suspicions of his wife Hermione and his best-friend, and imprisons her and orders that her new born daughter be left to perish.
The second half is a pastoral comedy with the "lost" daughter Perdita having been rescued by shepherds and now in love with a young prince.
The play ends with former lovers and friends reunited after the apparently miraculous resurrection of Hermione. John Pitcher's lively introduction and commentary explores the extraordinary merging of theatrical forms in the play and its success in performance.
As the recent Sam Mendes production at the Old Vic shows, this is a play that can work a kind of magic in the theatre.
Information
Format: Paperback
Pages: 464 pages, 20 illustrations in introduction
Publisher: Bloomsbury Publishing PLC
Publication Date: 23/07/2010
Category: Shakespeare plays
ISBN: 9781903436356
Other Formats
Paperback from £2.50
CD-Audio from £18.95
Hardback from £18.99
EPUB from £0.99
eAudiobook MP3 from £5.59
Free Home Delivery
on all orders
Pick up orders
from local bookshops
Reviews
Showing 1 - 1 of 1 reviews.
Review by Eyejaybee
16/06/2015
It was more than thirty years since I had read this, one of the slightly less will-known of Shakespeare's plays. back then I was reading it slightly under duress as it was one of the set texts in my BA English course, and in my petulant way I took against it. That, I now appreciate, was a demonstration of poor judgement, though I take some comfort from knowing that I was not alone in this.Perhaps fittingly, the earliest surviving text for this play in the 1623 Folio edition, though we know from other contemporary records that it was performed in 1611. The point about the Folio edition is that that collection represented the first attempt to classify Shakespeare's plays, and within the Folio this play was placed at the end of the more obviously comic plays. For, although there are some amusing scenes, and although the last two acts are much lighter in tone, there are some very dark undertones throughout the play.Now best known for the legendary stage direction, "Exit, pursued by a bear", the play displays some very bleak themes, certainly very far removed from those that one would associate with comedy, even Shakespearean comedy!The play opens with Leontes, King of Sicilia, expounding upon how marvellous it has been for Polixenes, King of Bohemia, to be visiting, and beseeching him to stay a bit longer. Polixenes declines, pleading responsibilities of state. Leontes then asks Hermione, his wife, to help to persuade the reluctant Polixenes. As a true gentleman, Polixenes feels unable to deny Hermione, and agrees to stay for a little longer. At some point a hitherto hidden canker [the "green-eyed monster" from Othello (probably written some eight years previously)] erupts and Leontes's mind is contorted with a sudden jealousy, seeing Polixenes's decision to stay as proof of an affair with Hermione. Although his courtiers (including Camillo , his lifelong counsellor) argue on her behalf, Leontes becomes increasingly convinced of his wife's infidelity. So, not too many laughs there, then!Shakespeare tended to respect the Aristotlean unities (time, place and action) but here he really cuts loose. Not only does he allow sixteen years to pass in the blinking of an eye between acts; he also allows for a complete transformation of Leontes's character. But so what? The play works - as always, the richness of the language allows the reader completely to suspend their disbelief. Not his finest work, but far from his weakest (which isn't exactly weak anyway!).
Also in the The Arden Shakespeare series | View all