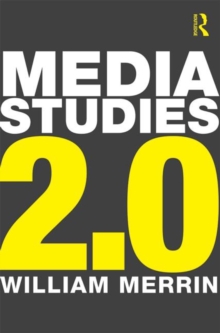 Media Studies 2.0
Paperback / softback
Description
Media Studies 2.0 offers an exploration of the digital revolution and its consequences for media and communication studies, arguing that the new era requires an upgraded discipline: a media studies 2.0. The book traces the history of mass-media and computing, exploring their merger at the end of the twenty-century and the material, ecological, cultural and personal elements of this digital transformation.
It considers the history of media and communication studies, arguing that the academic discipline was a product of the analogue, broadcast-era, emerging in the early twentieth century as a response to the success of newspapers, radio and cinema and reflecting that era back in its organisation, themes and concepts. Digitalisation, however, takes us beyond this analogue era (media studies 1.0) into a new, post-broadcast era.
Merrin argues that the digital-era demands an upgraded academic discipline: one reflecting the real media life of its students and teaching the key skills needed by the twenty-first century user.
Media 2.0 demand a media studies 2.0 This original and critical overview of contemporary developments within media studies is ideal for general students of media and communication, as well as those specifically studying new and digital media.
Information
Format:Paperback / softback
Pages:208 pages
Publisher:Taylor & Francis Ltd
Publication Date:12/03/2014
Category:
ISBN:9780415638630