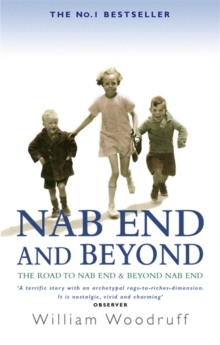 Nab End and Beyond
Paperback
Description
William Woodruff had the sort of childhood satirised in the famous Monty Python Yorkshireman sketch.
The son of a weaver, he was born on a pallet of straw at the back of the mill and two days later his mother was back at work.
Life was extrememly tough for the family in 1920's Blackburn - a treat was sheep's head or cow heel soup - and got worse when his father lost his job when the cotton industry started its terminal decline.
At 16, William leaves the poverty of Blackburn for London, where he finds no streets paved with gold, but filthy tenements and such squalor only a great city can conceal.
He gets a job in an iron foundry and finds lodgings with a beer-swilling landlady and her family - a predatory daughter, and a tattooed madman of a son with whom he has to share his bed.
Then, at night school, William discovers his love of learning, which eventually takes him to Plater college, Oxford.
As Mosley's blackshirts provoke fighting on the streets, William witnesses the courage of ordinary people in the face of war: a war in which he himself will soon be fighting . . .
Information
Format: Paperback
Pages: 736 pages
Publisher: Little, Brown Book Group
Publication Date: 07/12/2006
Category: Biography: general
ISBN: 9780349119878
Free Home Delivery
on all orders
Pick up orders
from local bookshops