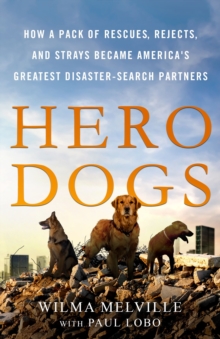 Hero Dogs : How a Pack of Rescues, Rejects, and Strays Became America's Greatest Disaster-Search Partners
Hardback
Description
Ana and Hunter were failed service dogs. Recon was left for dead on the train tracks. Cody was returned to the shelter seven times before he turned two.
To most, these dogs were unadoptable. Unsalvageable. Irredeemable. To retired gym teacher and grandma Wilma Melville, they were the heroes America needed. While volunteering as a canine search-and-rescue handler during the 1995 Oklahoma City bombing, Wilma saw how ill-prepared the country was to respond to disasters.
Then and there, beside her loyal Black Lab, Murphy, she made a pact, single handedly founding the National Disaster Search Dog Foundation (SDF) and beginning a journey that would change the face of search-and-rescue in America forever. But even Wilma could not predict how desperately her idea would soon be needed.
With 9/11, the scope of disaster response in America changed in an instant, and people across the country realised how crucial these dogs were, launching the SDF to a national stage. In this gripping, heart wrenching story, Wilma and writer Paul Lobo trace the paths of the amazing animals, firefighters, and volunteers who brought Wilma's dream to fruition.
They recount struggles and triumphs as the dogs and their handlers face off with hurricanes, bombings, and other staggering disasters.
Along the way, we witness the unshakeable bonds that develop between humans and these remarkable dogs.
Information
Format: Hardback
Pages: 336 pages, Includes one black-and-white photograph plus one 16-page color photograph insert
Publisher: St Martin's Press
Publication Date: 08/01/2019
Category: Memoirs
ISBN: 9781250179913