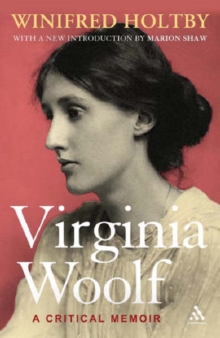 Virginia Woolf : A Critical Memoir
Paperback
Description
Holtby gives us Woolf the critic, the essayist and the experimental novelist in a critical memoir which is of particular interest as the work of one intelligent, though very different, novelist commenting on another.
Holtby's careful reading of Woolf's work is set in the context of the debate between modernist and traditional writing in the 1920s and 1930s.
Although Holtby greatly admires Woolf's art, she considers its limitations as an elite form that ignores the material conditions of everyday life and the consequent social responsibility expected of the novel.
Choosing to write about Woolf as 'the author whose art seemed most of all removed from anything I could ever attempt, and whose experience was most alien to my own,' Holtby has written a candid appreciation of the complex, groundbreaking work of a contemporary writer at the height of her career.
Winifred Holtby was a novelist, journalist and social reformer, who campaigned for the causes of peace and sexual and racial equality.
Her most famous work is the novel "South Riding", published posthumously in 1936.
She died in 1935.
Information
Format:Paperback
Pages:192 pages
Publisher:Bloomsbury Publishing PLC
Publication Date:15/01/2007
Category:
ISBN:9780826494436