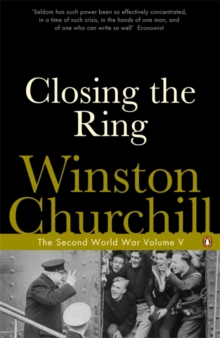 Closing the Ring : The Second World War
Paperback
Description
Winston Churchill's six-volume history of the cataclysm that swept the world remains the definitive history of the Second World War.
Lucid, dramatic, remarkable both for its breadth and sweep and for its sense of personal involvement, it is universally acknowledged as a magnificent reconstruction and is an enduring, compelling work that led to his being awarded the Nobel Prize for literature.
Closing the Ring chronicles the period between June 1943 and July 1944 as the Allies consolidated their gains towards a drive to victory - the fall of Mussolini, Hitler's 'secret weapon', the mounting air offensive on Germany, strategies to defeat Japan and the plans for D Day.
Information
Format: Paperback
Pages: 704 pages
Publisher: Penguin Books Ltd
Publication Date: 05/05/2005
Category: British & Irish history
ISBN: 9780141441764
Free Home Delivery
on all orders
Pick up orders
from local bookshops
Reviews
Showing 1 - 2 of 2 reviews.
Review by Smiley
16/06/2015
The fifth volume of Churchill's six volume WWII memiors is a thrilling read, for the most part. Clear, concise, with a driving narrative thread. Sometimes moving. Sometimes humorous and usually revealing. A few quibbles: Churchill does protest too much that he was not opposed to a cross channel invasion earlier in the war. Personally, I think the Galippoli disaster that he authored haunted him in his approach to the cross channel invasion of France, rightly or wrongly. Coverage of the Pacific theater is minimal simply because this was a secondary concern for the British and they had few forces engaged there. Churchill also tries very hard to justify the slogging stalemate in Italy and the strategic/tactical mistakes that seemed to plauge it from the start. Coverage of the Eastern front is almost exclusively political, but these are memiors by a war Prime Minister. De Gaulle comes off as a selfish brat and Churchill himself reminds me a lot of that other kid-in-a-candy-store sort of approach, Theodore Roosevelt. A very good read and deservedly one of the best memiors of the 20th century and maybe all time.
Review by gbsallery
16/06/2015
Whilst equally broad in scope as its predecessors, this particular volume's main purpose is to set the scene for Overlord. Still a huge wealth of detail, and plenty of subtle interactions whose significance can only be appreciated with reference to other accounts (particularly the altercation with Montgomery shortly prior to D-Day). Essential to any attempt to understand World War II.