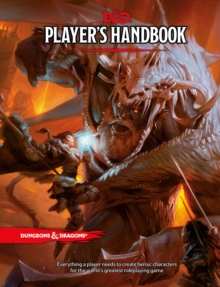 Dungeons & Dragons Player's Handbook (Dungeons & Dragons Core Rulebooks)
Hardback
Free Home Delivery
on all orders
Pick up orders
from local bookshops
Reviews
Showing 1 - 2 of 2 reviews.
Review by BenjaminHahn
27/08/2015
As an avid table-top RPG player, I found this latest edition of DnD to be the best yet to come out of Wizards of the Coast. Granted I have only dabbled in 1st and 2nd edition, but playing 3rd, 3.5, and 4th for the past 11 years or so, this 5th edition book seems to take all the good things in the last few tries and compiles them all together into this version. It was an enjoyable read especially if you read it out loud as I did to my newborn daughter. Now for a little uber-nerdom fan talk - If you follow RPG politics you may know that a lot of 4th edition DnD game designers jumped ship over the past couple years to make their own kickstarter games like Numenera and 13th Age. It's rumored that they did this because they wanted to get back to basics but Wizards of the Coast wasn't having it because it's hard to make a "back to basics" RPG profitable. Having played these recent offshoots for the past couple years now, you can tell that Wizards of the Coast took the hint and decided to get back to their roots a bit and incorporate more "theater of the mind" and storytelling elements into their game mechanics. This is a good thing in my opinion, but some of it seems a bit borrowed. Numenera for instance, has a random roll list of bizarre items that you might come across as a player. The items tend to be weird and quirky, like a two headed cat fetus in a jar for instance. These items are called oddities and add a bit of strangeness to the world but rarely do they serve any real tactical advantage. That's ok because Numenera isn't really about combat, it's about discovery. DnD is however about combat a majority of the time This new version of DnD happens to included a random roll list called "trinkets" which appears to be very similar to the Numenera concept. When I came across the trinkets page in the new edition of this player's handbook it seems a little out of place. Wizards of the Coast also added the idea of "bonds" which seems to be directly drawn from 13th Age. I find this funny because these are probably the kind of concepts that Monte Cook and Rob Heinsoo wanted to incorporate into DnD before they left. Regardless of these interesting asides, the book is well put together, well edited, and contains decent art that isn't too cartoony. I look forward to checking out the new Monster Manual and Dungeon Master's Guide soon. I have also been given a reprieve from DMing by my players since we have a new edition to the family and I don't have a lot time to plan out adventures. So another brave soul is DMing for now and I'm really looking forward to playing through this new system over the next year or so.
Review by JorgeCarvajal
16/06/2015
Possibly the best D&D edition so far crawls out of its baby bed. It's still to soon for this baby to grapple with its elders but the die has been cast with force. The newest D&D has new things that seem so fundamental in retrospect it's hard to realize they haven't always been there. Full review coming up on my blog.