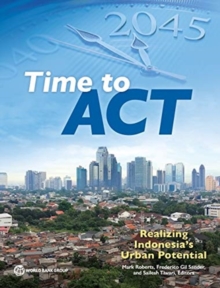 Time to act : realizing Indonesia's urban potential
Paperback / softback
Description
Indonesia has urbanized rapidly since its independence in 1945, profoundly changing its economic geography and giving rise to a diverse array of urban places.
These places range from the bustling metropolis of Jakarta to rapidly emerging urban centers in hitherto largely rural parts of the country.
Although urbanization has produced considerable benefits for many Indonesians, its potential has only been partially realized.Time to ACT: Realizing Indonesia's Urban Potential explores the extent to which urbanization inIndonesia has delivered in terms of prosperity, inclusiveness, and livability.
The report takes a broad view of urbanization's performance in these three key areas, covering both the monetary and nonmonetary aspects of welfare.
It analyzes the fundamental reforms that can help the country to more fully achieve widespread and sustainable benefits, and it introduces a new policy framework-the ACT framework-to guide policy making.
This framework emphasizes the three policy principles of Augment, Connect, and Target:* Augment the provision and quality of infrastructure and basic services across urbanand rural locations* Connect places and people to jobs and opportunities and services* Target lagging areas and marginalized groups through well-designed place-based policies,as well as thoughtful urban planning and design.Using this framework, the report provides policy recommendations differentiated by four typesof place that differ in both their economic characteristics and the challenges that they face-multidistrict metro areas, single-district metro areas, nonmetro urban areas, and nonmetrorural areas.In addition to its eight chapters, Time to ACT: Realizing Indonesia's Urban Potential includes four spotlights on strengthening the disaster resilience of Indonesian cities, the nexus betweenurbanization and human capital, the "invisible" crisis of wastewater management, and the potential for smart cities in Indonesia.If Indonesia continues to urbanize in line with global historical standards, more than 70 percent of its population will be living in towns and cities by the time the country celebrates the centenary of its independence in 2045.
Accordingly, how Indonesia manages this continued expansion of its urban population-and the mounting congestion forces that expansion brings-will do much to determine whether the country reaches the upper rungs of the global ladder of prosperity, inclusiveness, and livability.
Information
Format:Paperback / softback
Pages:331 pages, col. maps., col. figs, tables
Publisher:World Bank Publications
Publication Date:30/06/2020
Category:
ISBN:9781464813894