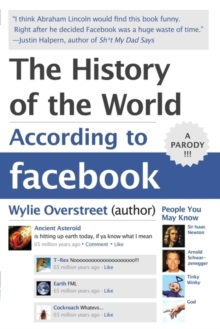 The History of the World According to Facebook
Paperback
Description
In August 2010, Wylie Overstreet published a satirical article called "If Historical Events Had Facebook Statuses" on the website CoolMaterial.com.
Within a month, it had received 3 million views and had been "liked" by 120,000 Facebook users. In A WORLD HISTORY ACCORDING TO FACEBOOK, Overstreet expands this concept into a full-length history of the world, from its creation up through to the present day, as if Facebook had existed all along and Abraham Lincoln had written a status update about "taking the missus to the theater" on April 15, 1865 and Ben Franklin had done the same alerting his network that he'd signed the Declaration of Independence ("Bring it," replied John Adams).
Filled with hundreds of real-life historical figures and thousands of not-at-all-real Facebook statuses, comments, and actions, and parodying Facebook users' proclivity to over-share and use lazy jargon ("lol," "rofl," "fml," etc.), this is the definitive humor book for our generation.
Information
Format: Paperback
Pages: 160 pages
Publisher: HarperCollins Publishers Inc
Publication Date: 11/10/2011
Category: Humour
ISBN: 9780062076182
Free Home Delivery
on all orders
Pick up orders
from local bookshops
Reviews
Showing 1 - 3 of 3 reviews.
Review by meggyweg
16/06/2015
This was all right -- chuckle-worthy at times, though no outright laughs. I would probably appreciate it more if I was on Facebook more often. The author provides a pretty comprehensive history of the universe from the Big Bang up until May 2011.
Review by sailorfigment
16/06/2015
Just like reading a bunch of Facebook status updates, this book got annoying after a while and it was time to put it down and do something else. I'm not writing that as a bad thing, just that the author got the Facebook flavor.The book definitely requires a knowledge of history or the willingness to look references up. The jokes aren't funny if you don't know what he's talking about.I did find myself wondering if the specific dates he gave for some events were correct. Obviously Lincoln at Ford' Theater and JFK in Dallas were right, but I wondered about some of the more obscure references. Also, the profile pics were pretty well matched, but someone didn't do all their research. For example: the picture of Pharaoh for the Israelite's exodus from Egypt was a picture of Akenaten. Ramses II was the pharaoh of the Exodus. That bugged me.I also thought the book could have been a little longer. With no much text on a page he could have added more historical events both past and present.Overall I did enjoy the book, hence the 4 stars.
Review by satyridae
16/06/2015
Yes, it's a one trick pony. But it made me guffaw any number of times. Overstreet has his finger on the pulse of ... well, us as hive-mind. Some of the pictures he chose to represent historical people/events were hilarious. I thought the inclusion of the odd modern bit into the historical timeline (Marty McFly, for example) was well done. Silly, fun, and worth picking up.