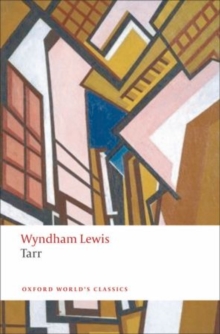 Description
'The nearest the general run get to art is Action: sex is their form of art: the battle for existence is their picture.' Tarr tells the blackly comic story of the lives and loves of two artists, played out against the backdrop of Paris before the start of the First World War - the English enfant terrible Frederick Tarr, and the middle-aged German Otto Kreisler, a failed painter who finds himself in a widening spiral of militaristic self-destruction. When both become interested in the same two women - Bertha Lunken, a conventional German, and Anastasya Vasek, the ultra-modern international devotee of 'swagger sex' - Wyndham Lewis sets the stage for a scathing satire of national and social pretensions, the fraught relationship between men and women, and the incompatibilities of art and life.
In his introduction and notes Scott W. Klein explores Lewis's stylistic experimentation within the context of avant-garde movements in painting, and offers new insights into Tarr as a work of mordent wit and enduringly ferocious irony.
ABOUT THE SERIES: For over 100 years Oxford World's Classics has made available the widest range of literature from around the globe. Each affordable volume reflects Oxford's commitment to scholarship, providing the most accurate text plus a wealth of other valuable features, including expert introductions by leading authorities, helpful notes to clarify the text, up-to-date bibliographies for further study, and much more.
Information
Format: Paperback
Pages: 384 pages, one map
Publisher: Oxford University Press
Publication Date: 09/09/2010
Category: Art & design styles: Cubism
ISBN: 9780199567201
Other Formats
PDF from £6.49
EPUB from £6.49
Free Home Delivery
on all orders
Pick up orders
from local bookshops
Reviews
Showing 1 - 1 of 1 reviews.
Review by StevenTX
16/06/2015
Tarr is an assertive and sometimes brutal novel exploring the relationships of Life, Art, Sex and Death. Ezra Pound called it "the most vigorous and volcanic English novel of our time." T. S. Eliot said Wyndham Lewis showed "the thought of the modern and the energy of the cave-man." Lewis was equally a painter and a novelist. His scathing satires of the art world alienated him from his contemporaries, and his legacy has been tarnished by negative portrayals of Jews and homosexuals in his novels. As Scott W. Klein writes in his superb introduction: "Tarr still snarls, as though through the bars of a cage, challenging approach by adventurous readers only."There are two very different versions of Tarr. In 1916 Lewis enlisted in the Royal Artillery and was sent to the front. Wanting to leave a literary legacy in case of his death in battle, with the help of friends Lewis rushed his first novel into print while portions were still in draft form and described as "placeholders." After the war, the author leisurely revised and expanded the novel, republishing it in 1928. The 1928 version, as published by Oxford World's Classics, is the version reviewed here, but the 1916 version, because it is in the public domain, is the one more widely available.The novel takes place chiefly in Paris circa 1910. There are four principal characters whose interactions and conversations form the basis of the simple plot. Frederick Sorbert Tarr, a young English painter, is Wyndham Lewis's alter ego, though the author explains that while Tarr's ideas are his own, the events of the story are not the least autobiographical. Tarr is a self-assured modernist, scornful of the ideas and styles of the past. He claims himself to be a new sort of entity, one in whom the "emotionality normally absorbed by sex is so strong that it claims a newer and more exclusive field of deployment. Its first creation is the Artist himself. That is a new sort of person; the creative man."The person on whom Tarr's carefully rationed sexual energies are expended is Bertha Lunken, a pretty German art student and model. Tarr describes his girlfriend as "a bourgeois-bohemian" and "a high-grade aryan bitch, in good condition, superbly made; of the succulent, obedient, clear peasant type." Tarr, clearly a misogynist, enjoys her body even as he ridicules her attachment to outmoded German Romanticism.The novel's most distinctive and entertaining character is another German, Otto Kreisler, a middle-aged man still living on his father's meager allowance and debts he can't repay as he moves from city to city to keep ahead of his creditors. Kreisler considers himself an artist and a gentleman, but is neither. His drunken antics and brazen effrontery are the source of the novel's dark humor, and his attempts at being serious invariably turn into the absurd.Lastly there is Anastasya Vasek, the "Modern Girl" whose combination of intellect and sexuality send Tarr into confusion and Kreisler on the path of self-destruction. Describing herself, she says "My parents are russian. I was born in Berlin and brought up in America. We live in Vienna… I am a typical Russian therefore." The term Lewis uses for her disarming sexual openness is "swagger sex."As some of the quotations above suggest, Lewis preferred his own rules of capitalization and punctuation, and even invented a few words. He felt, for example, that capitalizing adjectives of nationality placed too much emphasis on a person's birthplace. The text is also sprinkled with enough French and German phrases and cultural references to make the editor's footnotes very welcome.The meat of the novel is found in Tarr's conversations and pronouncements on the relationship and distinction between art and life, the nature of the artist, the role of sex in the life of the artist and, most disturbingly, what Tarr calls the "tragic theme of existence," that "pleasure could take no form that did not include death and corruption." He insists to Anastasya that "Death is the thing that differentiates art and life."Tarr is a novel of ideas peppered with enough action and humor to keep it fresh and entertaining throughout. It requires a reader to look past some potentially offensive opinions and characterizations, but has some thought-provoking notions on the nature of art from a man who was at the center of the art world for half a century.
Also in the Oxford World's Classics series | View all