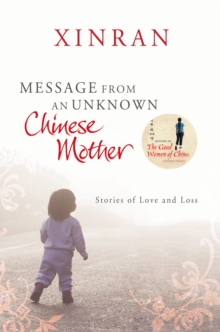 Message from an Unknown Chinese Mother : Stories of Loss and Love
Paperback
Description
Ten chapters, ten women and many stories of heartbreak, including her own: Xinran once again takes us right into the lives of Chinese women and their lost daughters.
Whether as a consequence of the single-child policy, destructive age-old traditions or hideous economic necessity, these women had to give up their daughters for adoption, others were forced to abandon them - on city streets, outside hospitals, orphanages or on station platforms - and others even had to watch their baby daughters being taken away at birth, and drowned.
Personal, immediate, full of sorrow but also full of hope, this books sends a heart-rending message to Chinese girls who have been adopted to show them how things really were for their mothers, and to tell them they were loved and will never be forgotten.
Information
Format: Paperback
Pages: 304 pages
Publisher: Vintage Publishing
Publication Date: 03/02/2011
ISBN: 9780099535751
Free Home Delivery
on all orders
Pick up orders
from local bookshops
Reviews
Showing 1 - 2 of 2 reviews.
Review by PennyAnne
16/06/2015
Xinran is a Chinese journalist who has collected true stories of Chinese women who gave their babies up for adoption. Designed in part to help Chinese girls who have been adopted into Western families, all of the stories are heartbreaking and all show the hardship and sorrow of the mothers who felt they had no other choice than to let their daughters go, hopefully to better lives. An interesting insight into another culture.
Review by DubaiReader
16/06/2015
The tragedy of abandoned Chinese girls.As China opens its doors to the West, it becomes more important that we have some knowledge of the country, its people and its history.Xinran's highly approachable books are an excellent introduction to the way the Chinese think and feel, frequently very differently to the way we do in the West.Thier ingrained traditions, desperate poverty and single-child-policy, have all played a part in the tragic death of many thousands of baby girls over the years and it is important that we understand the reasons for this awful situation before we judge.Over the years Xinran has interviewed hundreds of mothers and the ten tragic stories in this book represent the core of their experiences. Often hard to read but written in an easily accessible style, Xinran leads us through the reasons for the decisions these poor mothers were forced to take.She is particularly focused on the Chinese girls who have been adopted over recent years, she really wants them to understand that they were not abandoned lightly, that each one of them was loved by their mothers and that putting their daughters up for adoption was frequently the only way to save them.We read this for a book group discussion, which gained its own momentum and flushed out many of the ideals and reasons for this huge tragedy.There are several appendicies, which I didn't think added much to the book, hence the 4 stars.I also went on the internet to research The Mothers' Bridge of Love charity, formed to help adopted Chinese girls and their adopted parents understand their situations and possibly make connection with the lost mothers, but it seemed to have been discontinued in 2010 and I couldn't find anything more recent.