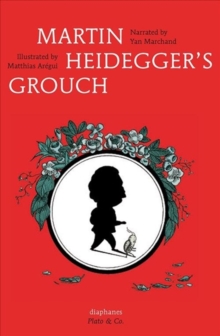 Martin Heidegger's Grouch
Hardback
Description
At its most basic, philosophy is about learning how to think about the world around us.
It should come as no surprise, then, that children make excellent philosophers!
Naturally inquisitive, pint-size scholars need little prompting before being willing to consider life's big questions, however strange or impractical.
Plato & Co. introduces children--and curious grown-ups--to the lives and work of famous philosophers, from Socrates to Descartes, Einstein, Marx, Freud, and Wittgenstein.
Each book in the series features an engaging--and often funny--story that presents basic tenets of philosophical thought alongside vibrant color illustrations. In Martin Heidegger's Grouch, the newest addition to the series, we follow a scared little beetle named Martin trying to find his way through the dead body of German philosopher Martin Heidegger.
As Martin the beetle treks along Martin the corpse's skeleton, he asks himself why do I exist?--wondering as he wanders about the condition of being in the face of death and about the meaning of his own existence.
On his way to find answers to these existential questions, Martin crosses paths with a lavish snail named Epicure, a frenzied community of ants subjected to grueling working conditions, a serene bed of worms, and even the ghost of the philosopher himself.
Through his conversations with these creeping, crawling interlocutors--each of whom shares their personal conception of existence--little Martin is ultimately released from his existential crisis. "Where existing philosophy books for children typically focus on surveys of ideas or broad historical overviews, Plato & Co. takes a more 'storied' approach . . . aiming to teach a philosophical theory through the experience of reading a traditional picture book." --Publishers Weekly
Information
Format: Hardback
Pages: 64 pages
Publisher: Diaphanes AG
Publication Date: 11/05/2018
Category: Philosophy
ISBN: 9783035800524
Free Home Delivery
on all orders
Pick up orders
from local bookshops