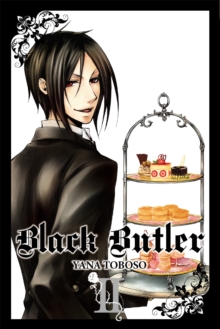 Black Butler, Vol. 2
Paperback
Description
As high society's social calendar opens up and the Season draws to a close, London is gripped by fear.
Someone has taken to stalking women of the night and painting the town red...in their blood.
The name on everyone's lips seems to be 'Jack the Ripper' - and as a result, the name on Queen Victoria's lips is Phantomhive.
Summoned to London to clean up the mess created by this madman, Ciel Phantomhive arrives with Sebastian, his extraordinary butler, at his side to pour him tea, polish his silver, and...investigate a serial killer. And with the aid (and occasional interference) of a few of the Phantomhive house's numerous acquaintances, little stands in the way of the young earl getting to the bottom of this mystery.
However, one question remains...can he handle the shattering truth behind it?
Information
Format: Paperback
Pages: 192 pages
Publisher: Little, Brown & Company
Publication Date: 18/05/2010
Category: Comics and Graphic Novels
ISBN: 9780316084253
Free Home Delivery
on all orders
Pick up orders
from local bookshops
Reviews
Showing 1 - 5 of 6 reviews.
Previous | Next
Review by mauveberry
16/06/2015
This manga is about a young earl who promised his soul to a demon in exchange for help finding the identity of the people who killed his parents and getting revenge against them. In the meantime, the demon masquerades as his butler, and together, they undertake missions from Queen Victoria to solve certain crimes. The setting is in Victorian England, and the artwork is beautiful. I often find myself wanting Ciel's clothes. The storylines are at times funny and at times dark and serious. This particular volume includes the 1st half of the Jack the Ripper arc.I especially enjoyed reading the author's behind-the-scenes stories at the very end of the manga, which you don't get if you only read the manga in serialized form. Some of the themes in the manga are dark, so it's more suitable for older children and adults.
Review by TPauSilver
16/06/2015
We pick up our story in the Phantomhive Manor. Ciel has friends round, and by friends I mean vaguely threatening adults. Ciel must go to London with his tursty butler to hunt down Jack the Ripper. This involved wacjy hijynx, of course, then serious, then Greil who is fabulous. I love Greil. So, yeah, we had the expected shota-biating which just makes me cringe, and the pre-pubescent boy running around in a dress which given Ceil's personality is just hillarious, and the obligatory kidnap scene because Sebastian needs SOMETHING to do in this manga. As a manga, it's everything you expect from Kuroshitsuji. It has a shota, and a butler. It has seemingly victorian london where kids are gaming on their Ds lite's. It's hillarious, I love Greil, it's brainless and fun.
Review by fuzzydeadthing
16/06/2015
So starts the Jack the Ripper arc! Ciel is charged with solving the brutal murders committed by the first famous serial killer. Toboso allows for moments of lightheartedness and the development of several new characters. The complete Ripper arc is probably one of my favorite for this series, and the ending is epic. The only really regrettable thing is that waiting for Volume three to come out might be torturous, since that is where the arc is concluded.
Review by catfantastic
16/06/2015
Twelve-year old Ciel Phantomhive, the Earl of Phantomhive and Queen Victoria's underworld watchdog, is summoned to London during the summer season to catch Jack the Ripper. Good thing he has his demon-butler Sebastian, for whom there is no mortal task that is not seen as trivial. In this volume we also meet Ciel's aunt, Madam Red. Their investigation leads to Ciel cross-dressing, a kidnapping and an unexpected twist. I thought the twist at the end was very effective. I am really enjoying this manga series.
Review by Kassilem
16/06/2015
I'm liking this series. Not much is know yet about the demons and who Sebastian is exactly, but despite that the story sucks you in. There's plenty of action and hilarities and seriousness blended together. The artwork is fantastic as well. Not totally realistic, but great none the less. The chapters have great introductions and the plot hasn't yet drooped all that much which is sometimes common in manga series. I'm looking forward to more. Ecspecially after the cliffhanger at the end of this volume.