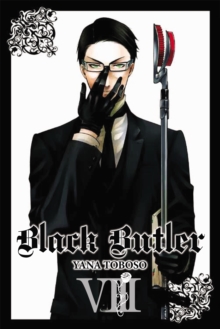 Black Butler, Vol. 8
Paperback
Description
When one curtain falls upon the stage at the big top, another rises behind the scenes, as young Earl Ciel Phantomhive and his virtuoso butler Sebastian face off against the villain behind the children's disappearances.
But as Sebastian, under orders from his master, single-handedly draws the gruesome tale to its sad conclusion on one front, battle lines are drawn on another! With the master-less Phantomhive manor under attack from the Noah's Ark Circus and Sebastian nowhere near to protect its inhabitants, is Ciel's home once again headed for the same tragedy that took the lives of the young earl's parents?
Information
Format: Paperback
Pages: 176 pages
Publisher: Little, Brown & Company
Publication Date: 24/01/2012
Category: Manga
ISBN: 9780316189651
Free Home Delivery
on all orders
Pick up orders
from local bookshops
Reviews
Showing 1 - 3 of 3 reviews.
Review by Kassilem
16/06/2015
Here it is clear that things are not what they seemed. I was not expecting the twist about Ceil's three servants. And I was not expecting Ciel to do what he did. This volume was full of surprises and lots of death. Some character's I was sad to see go, which makes what Ciel did much more unsettling. The last chapter at least was cute, come comic relief after all the "gothic". It looks like we're on to a new arc. And of course the artwork is fantastic. Looking forward to some more.
Review by WickedWoWestwood
16/06/2015
It seems I save up on reading these manga volumes until the Teen Read Challenge every year. So let the Kuroshitsuji binge begin! In this volume we see the end of the circus arc, a lot of dying, and a survivor swears for revenge on Ciel! Le gasp!
Review by krau0098
27/01/2016
This is the eighth volume in the Black Butler series. This has been an absolutely fantastic manga series and this book was just as wonderful and entertaining as all the previous books. When the troops from Noah's Ark Circus arrive at the Phantomhive Mansion they are in for a surprise. The Phantomhive staff may be incompetent at their day jobs but they are all kickass fighters in their own right and it was awesome to see them in action. This book ties up the Noah's Ark Circus story arc and ends on a lighter note with a crazy tailor who is prepping the crew for new Easter clothing.The beginning and middle of this installment is pretty dark. We see a twisted viciousness and darkness to Ciel's character that we haven't seen before. We also get to see what kind of destruction Sebastian is truly capable of.The book ends on a more light-hearted note that had me laughing out loud some.All in all this was an incredibly entertaining read that was a bit of a rollercoaster of a ride. I loved seeing the Phantomhive staff in action, I loved the addition of a new Reaper, and continue to adore all of the other characters as well (Ciel and Sebastian I am talking about you!).The manga is beautifully illustrated and just so well balanced and amazingly fun. Overall I loved this installment of the Black Butler series. I have loved this series from the beginning and it just keeps getting better and better. Highly recommended to those who enjoy paranormal and/or historical fantasy stories. I can't wait to read the next one, I am seriously addicted to this manga. I don't go all fan girl over very many things...but this manga is one of them.