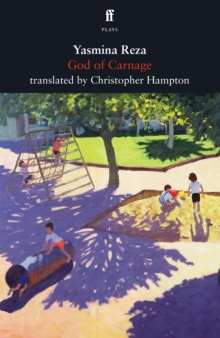 The God of Carnage
Paperback
Description
What happens when two sets of parents meet up to deal with the unruly behaviour of their children?
A calm and rational debate between grown-ups about the need to teach kids how to behave properly? Or a hysterical night of name-calling, tantrums and tears before bedtime?
Boys will be boys, but the adults are usually worse - much worse.
Christopher Hampton's translation of Yasmina Reza's sharp-edged new play "The God of Carnage" premiered at the Gielgud Theatre, London, in March 2008.
Christopher Hampton has translated five plays by Yasmina Reza: "Art", "The Unexpected Man", "Conversations after a Burial", "Life x 3" and "The God of Carnage".
Information
Format: Paperback
Pages: 80 pages
Publisher: Faber & Faber
Publication Date: 06/03/2008
Category: Plays, playscripts
ISBN: 9780571242580
Free Home Delivery
on all orders
Pick up orders
from local bookshops
Reviews
Showing 1 - 3 of 3 reviews.
Review by EricKibler
16/06/2015
Two couple come together for the purpose of having a "civilized discussion" about an act of violence that occurred between their sons. But what, finally, is "civilization"? Is it a mere sham? Or, although real, does it carry us away from our natural human impulses? Does civilization resolve anything in the end?How does the behavior of "grownups" differ from the rough schoolyard savagery of children? Are they the same? And do the formalities of the former merely disguise the brutality of the latter?A very depressing play. One that I'm unsure whether I'd want to see, let alone perform in. I dunno. Depends on my mood, I guess.If you go to see this play, my advice is that you not sit in the front row, unless you're one of those hardy or masochistic souls who'd be front and center at a Gallagher show and who'd like to be spattered with bits of exploded melon. Only in this case, it'd be puke. Probably fake puke, unless the actress who plays Annette is gastrically super-talented.
Review by Ceilidhann
16/06/2015
I'm going to sound like such a snob but this play left me so unsatisfied. It felt like Albee-lite, with no real purpose or resolution to the unfolding chaos. The characters never evolved beyond their established archetypes and the stereotypical markers of power and gender (men are brutes and like war! Women are bitches!) didn't evolve to give us any deeper insight other than "Adults can be so childish." I imagine it would be very entertaining to see performed, and I must keep in mind how different an experience it is to read a play in comparison to watching one (this is also a translated play), but why briefly raise topics such as the inherent narcissism of the bourgeois and the universality of anger and war if you're not going to do anything with them?
Review by nosajeel
16/06/2015
This play has the feel of Eugene O'Neill or Edward Albee, only more compact. It unfolds over a single act in the living room as two couples address the fact that one of their son's hit the others' son in the fact with a stick, breaking his two front teeth. It starts out with relatively civilized mutual understanding and apologies but slowly and inevitably degenerates into immature multidimensional fighting, pitting not just the couples against each other but also the husbands against the wives. In the course, it provides a psychologically astute portrait of the couples and their struggles with each other and themselves.