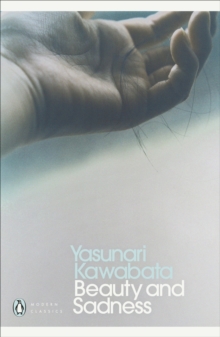 Beauty and Sadness
Paperback
Description
The successful writer Oki has reached middle age and is filled with regrets.
He returns to Kyoto to find Otoko, a young woman with whom he had a terrible affair many years before, and discovers that she is now a painter, living with a younger woman as her lover.
Otoko has continued to love Oki and has never forgotten him, but his return unsettles not only her but also her young lover.
This is a work of strange beauty, with a tender touch of nostalgia and a heartbreaking sensitivity to those things lost forever.
Information
Format: Paperback
Pages: 144 pages
Publisher: Penguin Books Ltd
Publication Date: 01/01/2011
ISBN: 9780141192611
Free Home Delivery
on all orders
Pick up orders
from local bookshops
Reviews
Showing 1 - 2 of 2 reviews.
Review by Luli81
16/06/2015
"A book must be the axe for the frozen sea within us." Frank Kafka.Beauty and Sadness is much more than a mere contrivance to attract potential readers, this magic narration, shrouded in magnificent contradiction, has the power to shock right from the beginning with the indwelling lyricism emanating from its title.Beauty and Sadness. Opposing concepts fused and confused in a blur of balmy ocher and passionate red, in the inevitable passage of time and the timelessness of the frozen moment, in the unconditional love and the implacable revenge, in the required brushstroke of fiction to capture a perpetual reality in a canvas. This is not a journey for everyone, only for those who willfully choose the forking path of love, for those who struggle against treacherous jealousy with an obstinacy that does not yield to continuum disillusionment, for those who can find in themselves enough insight to bask in that strange scent of mixed roses and cinder, for those daring enough to dance to the rhythm of the beat and the beating heart of the beauty and sadness.Otoko and Oki's affair, whose love set fire to their existence and changed not only their lives but also the ones of the yet unborn, becomes the center of the story. Theirs was a brief but intense relationship, Otoko was only fifteen, Oki was a married man in his mid thirties with a newborn son. When Otoko's illicit baby dies in childbirth and Oki abandons her, she tries to commit suicide but Oki's brief return brings her back to life. Twenty years pass and Oki has become a celebrity thanks to his most famous novel based on his affair with Otoko, a book that immortalized their love forever, a moving work of art that made of Otoko an eternal young girl of fifteen.Otoko has arisen as a battered survivor. She is now a recognized painter in the Japanese tradition who has finally found peace in the company of her female pupil and whimsical lover Keiko. But Otoko's love for Oki has never run dry. A fateful encounter between Otoko and Oki reopens unhealed wounds from the past and triggers a chain of events which none of them could have ever predicted, blurring the thin line between love and hate, compassion and revenge.How do we chop through the frozen sea of others? How can we prevent the past coming forward, how can we avoid the past reviving again and meeting us in its complete strangeness?A building sense of doom contracts and expands fluidly attuned to the poetic melancholy of the Japanese landscapes, where ancient temples, traditional ceremonies and snow covered and eerie mounts serve as a nest for the development of this classic tragedy of memorable love, loss, madness and revenge wrapped up in the stillness and delicate contemplation that such profound feelings require. Lyric passages about the anthem of human connectedness and their mismatched selves are brought up to life with Kawabata's careful choice of words.Beauty and Sadness is one of those rare but not impossible love stories which can't be erased like one does with discarded tea leaves at the bottom of a cup or like a forgotten picture buried deep at the back of a neglected drawer. This is a hymn to beauty which will remain embedded in the most recondite part of any sensitive, pulsating soul. The essence of existence becomes a feeble and restrained throb accompanying those who allow themselves to be dragged by the flowing stream of this perturbing story.In an exotic Japan, where tradition and the disturbing presence of unfulfilled desire, meditation and yearning, colorful art and greyish death are inexorably melted, the tearing loss and the stand-still moment will reincarnate into scarred flesh, invoking cold Beauty and piercing Sadness as a chant for passionate love, regardless of the powerful inner currents which presage the insurmountable tragedy.Someone, somewhere once asked: "Is love worth it"? I would answer that yes, it is.
Review by kirstiecat
16/06/2015
This book had me transfixed for the whole two hours it took me to read it. It's one fault for me is that I disliked the male protagonist, Oki, so much for his actions that I had a hard time connecting with or feeling any kind of empathy for his character. Some people can move beyond these things but I've always enjoyed a novel more when I like the main character. It has a tendency to make me more emotionally invested with the storyline overall. I'm pretty sure most readers would have a difficult time not judging his immoral choices, though.<br/><br/>This book also features a female artist whose character I loved (Otoko) and her very bizarre protege whose behavior baffled me in its erratic and harsh nature. Even after finishing this novel yesterday and thinking about the younger female artist, (Keiko) I have a difficult time figuring out what she really did mean and what her true feelings are. She appears honest in intent at times but then contradicts herself completely. It would be difficult to trust anything she says or does. Murakami has some interesting female characters who can sometimes be unpredictable but Keiko is written 100x stronger than any of his.<br/><br/>This novel captures beauty, sadness, and mental illness in the way the characters experience loneliness, depression, as well as great love and passion but it also explores something completely different. There's a real sense of the Japanese spirit, here, and it became even more clear to me how different overall the Japanese psyche is in comparison to the American psyche. There's a sense of appreciating certain things about nature...noticing certain things, even small things of great beauty and experiencing immense pleasure from them, as well as honoring and remembering the dead. There's a ceremony in the way these characters experience the ringing of bells to the moon to a lock of hair. <br/><br/>Overall, Kawabata has shown us the beauty and sadness in existence and he has succeeded. I can understand why he won the Nobel Prize and I look forward to reading other works of his. I'd really like to read a much longer work, though, next time if it exists. (I've only come across even shorter novels from him, though) I prefer much longer novels to short ones and 206 pages just seemed as if it wasn't long enough to explore all of these deeper themes. If it takes me weeks to read something, I am more fully connected to the characters over time and I think of them in the glimpses of my day when my mind wanders. This one was more of a crash and burn story for me, especially towards the end. Even when Kawabata made such an effort to explore the great moments of beauty and sadness in life, he ends it suddenly and makes the reader feel a little unsatisfied and wanting more.<br/><br/><br/>Memorable quotes:<br/><br/>pg. 79 "It's easy for a woman to go wrong."<br/><br/>pg. 80 "I'm not afraid of suicide. The worst thing is being sick of life."<br/><br/>pg. 110-111 "I like the idea of saying thank you on behalf of the weather...To be sure you could interpret her remark that way. Apologizing to them for the rain was natural enough...She seemed to be speaking for the weather, or for Mt. Arashi in the rain.<br/><br/>pg. 120 "There's no such thing as a woman who can't marry!"<br/><br/>"But there is."<br/><br/>"If you don't, we'll be among the unmourned dead."<br/><br/>"I don't know what that means."<br/><br/>"They're the ones who have no relatives left to mourn them."<br/><br/>"I know but I can't imagine what that would mean." She paused. "You're dead after all"<br/><br/>"It's not just when you're dead. A woman without husband or children must be like that even while she's still alive."<br/><br/>pg. 132 "Old couples getting divorced are bad enough but there's nothing sadder than when they commit suicide together. It must make an older person feel so agitated to see such articles in the papers. Even more so than the way young people feel about the suicide of young lovers."<br/><br/>pg. 134 "Again this morning he found himself complaining about the decay of language...Words change so fast it makes your head spin. So they only have a short life, and even if they survive they're dated-like the novels we write."<br/><br/>pg. 145 "Loneliness seemed to come and go as it pleased."<br/><br/>pg. 157 "A slender neck means you've never loved a man."<br/><br/>pg. 158 "You're not eating," he said. She had hardly touched her dinner.<br/><br/>"The bride doesn't eat at the wedding reception."<br/><br/>"There, that's the kind of thing you say."<br/><br/>"You're the one who started talking about food!"<br/><br/>pg. 183 "...then there's 'Hermitage Away from the Hateful World'"<br/><br/>pg. 189 "It seems strange for a tomb to create a memory"<br/><br/>"But they're built for memories, aren't they?"<br/><br/><br/><br/><br/><br/>
Also in the Penguin Modern Classics series | View all