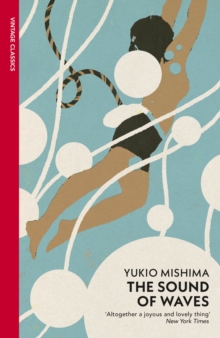 The Sound Of Waves
Paperback
Description
Set in a remote fishing village in Japan, The Sound of Waves is a timeless story of first love.
It tells of Shinji, a young fisherman and Hatsue, the beautiful daughter of the wealthiest man in the village.
Shinji is entranced at the sight of Hatsue in the twilight on the beach and they fall in love.
When the villagers' gossip threatens to divide them, Shinki must risk his life to prove his worth.
Information
Format: Paperback
Pages: 192 pages
Publisher: Vintage Publishing
Publication Date: 01/03/1999
ISBN: 9780099289982
Free Home Delivery
on all orders
Pick up orders
from local bookshops
Reviews
Showing 1 - 3 of 3 reviews.
Review by NativeRoses
16/06/2015
The Sound of Waves is a romance/coming-of-age story set in a Japanese fishing village. The plot is a modern adaptation of Daphnis and Chloe, the Greek pastoral romance. Shinji, a poor, young fisherman on the island of Uta-Jima (Song Island) meets and falls in love with Hatsue, the daughter of a rich shipowner. There are many obstacles to their love and suspense is maintained as to whether or not the people of the island will accept them and let them be together. For those of us who have lived next to water, Mishima's lyrical descriptions of a life lived on the sea, within the sound of the waves, will be extremely compelling. In a few sentences, Mishima contrasts the life of the young man, Shinji, with the lives of city youths and describes the island setting as one which gives the community difficult circumstances yet idyllic lives that are always in tune with nature and may develop into extraordinary character. Along with many positive characteristics, like people anywhere, some of the islanders display negative traits; there is jealousy, insecurity, competitiveness, and an attempted rape. We also see bravery (working in boats on the sea, and diving for abalone) as well as humor (in one scene Terukichi, Hatsue's father, reacts fabulously to an insult in the public bath). Mishima contrasts the simple life of the island with the lives of those outside it (American soldiers camps, burned out hills, luxury liners, bustling cities with bars and prostitutes) without ever straying too far from the main story on the island. The author grapples with the question of how much contact with 'civilization' is necessary to satisfy a man's curiosity without becoming too much that it destroys his ability to truly live in tune with nature.While the story may follow a boy-meets-girl/can-boy-and-girl-be-together? formula, the simply and beautifully described observations of the characters' inner and outer worlds ensures that the story never becomes a syrupy or sappy romance. It is a beautiful book which I strongly recommend.
Review by kirstiecat
16/06/2015
At the outset, this is a simple story...a boy and girl falling in love on a remote fishing island in Japan. Dig deeper and there's really an elegance in the writing that made me think quite a bit of Steinbeck's The Pearl, which I actually haven't read since I was in middle school. Still, I couldn't help remembering it and thinking it made me feel the same way even though the novels are obviously very different but the language and form of it itself...and the tone at times that Mishima conveys through the imagery. <br/><br/>I think what Mishima does well here is convey such different characters and the island life itself. Though the story centers on young love, this is also a story about integrity in many ways and traditions as well. It also gave me some interesting dreams having read it mainly right before bed while I was taking my evening bath. Once, after reading a section about a storm, I had a dream about a huge house whose top flew right off because of a huge gust of wind. <br/><br/>Some quotes:<br/><br/>pg. 34 "He was left with nothing but a keen sense of regret, a feeling that there was something he had utterly failed to do...They left the house standing open: there was no such thing as theft on the island."<br/><br/>pg. 59 "Influenced by both her natural disposition and by the movies seen and novels read in Tokyo, she was always wishing that she could have a man look at her at least once with eyes saying "I love you" instead of "You love me" But she had decided that she would never have such an experience in all her life."<br/><br/>pg. 67 "The clouds were moving at a gallop, and even in the dark sky there was a restless fluctuation between light and dark."<br/><br/>pg. 182 "Out in front of them stretched the unfathomable darkness, where the beam from the lighthouse was making its vast, regular sweeps. And the reflection of the lens kept circling around inside the little room, their patterns disrupted only at the spot where they crossed the backs of the white shirt and the flower patterned kimono."
Review by idiotgirl
27/01/2016
Audible. Driving back to the northwest. A spare, lovely novel. Restrained. Story set on islands near Japan. Fishermen. Pearl divers. Set in the 1950s, post war (the boy's father has died from American plane fire). Young love. Definitely recommend. (This is one that needs a half star.)