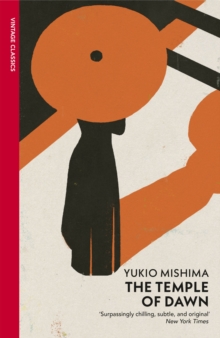 The Temple Of Dawn
Paperback
Description
Honda, a brilliant lawyer and man of reason, is called to Bangkok on legal business, where he is granted an audience with a young Thai princess - an encounter that radically alters the course of his life.
He is convinced she is a reincarnated spirit, and undertakes a long, arduous pilgrimage to the holy places of India, where, in the climatic scene, he encounters her once more, only to have his newfound beliefs shattered and his life bereft of all meaning.
Information
Format: Paperback
Pages: 336 pages
Publisher: Vintage Publishing
Publication Date: 01/03/1999
ISBN: 9780099282792
Free Home Delivery
on all orders
Pick up orders
from local bookshops
Reviews
Showing 1 - 3 of 3 reviews.
Review by mbmackay
16/06/2015
Combined review for Spring Snow, Runaway Horses, The Temple of Dawn and The decay of the Angel - which together make up the Sea of Fertility.Spring Snow succeeds for me only for its painting of a lost period in Japan - of the privileged and their privileges. In other ways it fails - the obsession with 'elegance' and 'good movements' and 'beauty' leaves me no wiser as the causes and principles involved.Runaway Horses moves forward 20 years, to a second incarnation of the principal of these stories. Again fails to to convince as the source and power of the obsessions (Japan-ness. ritual suicide etc). At the end, we know they exist, but not why. The Temple of Dawn is the weakest of the four books with turgid page after turgid page of Buddhist and other religious exposition. Is this a cheap cure for writer's block? The reincarnation this time is as Thai princess. Remarkably, the main character, Honda, becomes a hardcore voyeur halfway through this volume. The voyeuristic writing is good - it is almost as if Mishima wanted to get this writing out, and Honda was the available character!The Decay of the Angel is the shortest volume (running out of things to say?) and again fails to deliver. The latest incarnation is Angel-like(!). Spare me. The most remarkable aspect is Mishima's ritual suicide on the day he finished writing this last volume. If he was aiming for immortality, all he achieved was a quirky footnote to literary history.
Review by technodiabla
16/06/2015
I enjoyed the first two of the tetralogy more than The Temple of Dawn. The first two thirds are tedious, boring, and haphazard. The last third was more interesting and the pace picked up a bit, though none of it was very believable. If I wasn't set on completing this tetralogy I might have given up on this book. The 50+ year old Honda become obsessed with a Thai princess he believes is yet another reincarnation of Kioyaki. It's hard to like Honda is this book-- he is perverted, lies and manipulates, etc. Yang Chin is very one-dimensional, as are many of the characters. I was hoping for more time spent on the War years, but this book didn't really have the historical piece or the imagery-filed writing of the first two books. (Different translator?)It isn't yet clear to me how this book fits into the Sea of Fertility-- as least the progression I was expecting. Perhaps the final book will shed some light. I will say that Chapters 38 and 39 are brilliant. They describe the changes in Rie and Honda as they become bitter and apathetic. It's depressing, but very insightful and perfectly described.Some nice passages:"If one must live, one must not cling to purity....""Single-mindedness often gives rise to viciousness.""...anything born of necessity is accompanied by bitterness..."
Review by missizicks
16/06/2015
The third book in the Sea of Fertility series is an improvement on the second. The overt nationalistic overtones are pared down, but are replaced by Mishima working his way through Buddhist doctrine. When he gets on with the story, it's much better than Runaway Horses. Honda is now middle aged and thinks he has discovered Kiyoaki's latest incarnation in a Thai princess. She seems to think she's the reincarnation, too, despite only being 6 years old. Time passes. Honda has an epiphany/existential crisis. The princess comes to Japan as a teenager. Honda becomes obsessed and is revealed to be a seedy man with a penchant for voyeurism. His midlife crisis is dressed up as spiritual awakening, and he's a bit of a sorry character, manipulated by the women around him. In the final couple of chapters, his hopes are simultaneously realised and dashed. It made me see this older Honda as akin to Don Draper in Mad Men. Like Draper, Honda tries to stand separately from the world in order to pursue his own code of living with impunity.