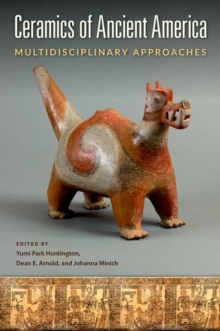 Ceramics of Ancient America : Multidisciplinary Approaches
Hardback
Description
This is the first volume to bring together archaeology, anthropology, and art history in the analysis of pre-Columbian pottery.
While previous research on ceramic artifacts has been divided by these three disciplines, this volume shows how integrating these approaches provides new understandings of many different aspects of Ancient American societies.
Contributors from a variety of backgrounds in these fields explore what ceramics can reveal about ancient social dynamics, trade, ritual, politics, innovation, iconography, and regional styles.
Essays identify supernatural and humanistic beliefs through formal analysis of Lower Mississippi Valley ""Great Serpent"" effigy vessels and Ecuadorian depictions of the human figure.
They discuss the cultural identity conveyed by imagery such as Andean head motifs, and they analyze symmetry in designs from locations including the American Southwest.
Chapters also take diachronic approaches?methods that track change over time?to ceramics from Mexico's Tarascan State and the Valley of Oaxaca, as well as from Maya and Toltec societies. This volume provides a much-needed multidisciplinary synthesis of current scholarship on Ancient American ceramics.
It is a model of how different research perspectives can together illuminate the relationship between these material artifacts and their broader human culture.
Free Home Delivery
on all orders
Pick up orders
from local bookshops