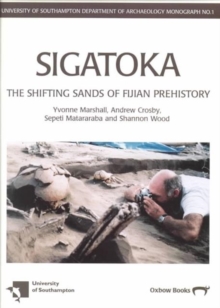 Sigatoka : Shifting Sands of Fijian Prehistory
Paperback / softback
Description
The traditional view of the colonisation of Fiji is one of an initial movement to the islands three thousand years ago followed by relative isolation until the 19th century.
Therefore it is no surprise that these islands and their inhabitants have been widely studied as examples of cultures evolving in isolation. However, recent archaeological evidence and new theoretical models have questioned the degree of isolation experienced in the early years of the occupation of the islands.
One important site within this debate is the Sigatoka sand dunes on the south-west shore of Fiji's largest island.
Here the archaeological evidence from this site is reassessed and presents a dynamic, interactive picture of island life, with constant contacts with other islands to the east and west.
The information from this site is not only placed within the broader context of this group of islands, but also within other theoretical migrationist and evolutionary models of island groups.
Information
Format: Paperback / softback
Pages: 128 pages, b/w figs and pls
Publisher: Oxbow Books
Publication Date: 01/07/2000
Category: Australasian & Pacific history
ISBN: 9781842170113
Also in the University of Southampton Department of Archaeology Monograph series