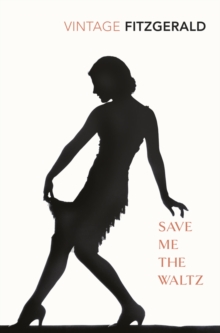 Save Me The Waltz
Paperback
Description
'Nobody has ever measured, not even poets, how much the heart can hold.'One of the great literary curios of the twentieth century Save Me the Waltz is the first and only novel by the wife of F.
Scott Fitzgerald. During the years when Fitzgerald was working on Tender is the Night, Zelda Fitzgerald was preparing her own story, which strangely parallels the narrative of her husband, throwing a fascinating light on Scott Fitzgerald's life and work.
In its own right, it is a vivid and moving story: the confessional of a famous glamour girl of the affluent 1920s and an aspiring ballerina which captures the spirit of an era.
Information
Format: Paperback
Pages: 256 pages
Publisher: Vintage Publishing
Publication Date: 06/07/2001
ISBN: 9780099286554
Free Home Delivery
on all orders
Pick up orders
from local bookshops
Reviews
Showing 1 - 3 of 3 reviews.
Review by bigorangecat
16/06/2015
Zelda's novel is better than almost all of what her husband wrote. It's colorful, fresh, real and full of life, even today. No wonder Scott cribbed so much of his material from this piece.
Review by AdonisGuilfoyle
16/06/2015
The one and only novel, mostly autobiographical, of Zelda Sayre Fitzgerald. Zelda is Alabama Knight, husband of the dashing and successful artist David Knight, trying to shape an identity for herself. The book covers her childhood in Alabama, the decadent party years after her marriage, the birth of her daughter and their years on the Continent, but focuses mainly on Zelda/Alabama's tireless passion to become a ballerina. To become anything on her own merit, and not as somebody's daughter, wife or mother.There is some debate as to whether Zelda was merely jealous of her husband's skill and success, and was only seeking attention with her own attempts to be a writer/artist/dancer, or whether she had a talent of her own and was overshadowed by Scott Fitzgerald. I think her writing in this novel is evidence enough that Zelda was an artistic soul trying to find the right outlet for her muse. She has an abstract style that is occasionally hard to follow, but some of the imagery is beautiful and very evocative. Although the stories of F. Scott Fitzgerald are better constructed and perhaps more accessible, Zelda's prose is lyrical and almost tangible. One of my favourite passages paints a vivid portrait of their home in Provence: 'Les Rossignols' was back from the sea. The smell of tobacco flowers permeated the faded blue satin of the Louis XV parlor; a wooden cuckoo protested the gloom of the oak dining room; pine needles carpeted the blue and white tiles of the balcony; petunias fawned on the balustrade. [...] The cream calcimined walls of the villa with its painted windows stretched and yawned in the golden sun.' So evocative. And her memories of Alabama - which is why I started reading this book again - are of 'motionless activity', 'autumn heat', and the 'sun sagging yellow over the grass', of summer dances and collecting the badges of her army beaux (Zelda met Scott when he was stationed in Montgomery during the War.)There is by far more life - and heart, and soul - in Zelda's writing than in Fitzgerald's 'Tender in the Night'. I gave up on the latter twice. The two novels were written around the same time, and dramatise the same events and characters, but Zelda was in a sanatorium at the time, being treated for schizophrenia. The preface of my copy phrases her writing best by stating that she was 'trying to give order to her confused memories'. There is no plot, really, just a sequence of vignettes and reminiscences.Zelda would eventually die in a hospital fire, distanced from her husband and from the golden life she captures here, and I think that makes her talent all the more precious. If you can persevere with the deluge of thoughts and words that commences from the very first line, then do - it's a rewarding experience.
Review by lanaing
16/06/2015
After reading Nancy Milford's (wonderful) biography of Zelda Fitzgerald, I was quick to read Zelda's only novel. Although I already knew Zelda's life story (and this is unofficially an autobiography), it was well worth the time. I adore her metaphors, similes, descriptions; her writing. Altogether: lovely.
Also by Zelda Fitzgerald