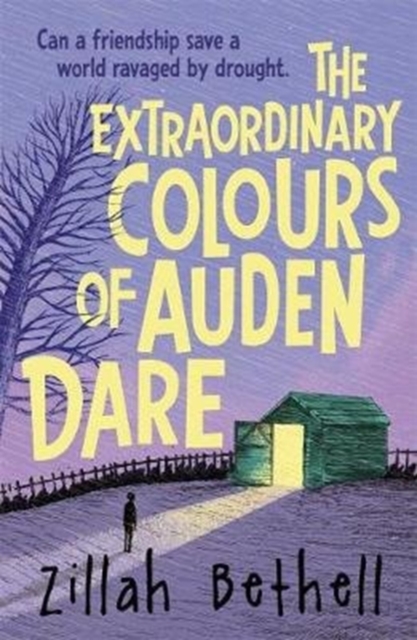 The Extraordinary Colours of Auden Dare
Paperback / softback
Description
I am how I've always been. My name is Auden Dare. I am eleven years old. Auden Dare has an unusual perspective on life: he cannot see in colour.
He's always had this rare condition - and life is beginning to get harder for Auden.
The war for water that is raging across the world is getting a little closer all the time.
It hardly rains any more, anywhere. Everyone is thirsty all the time, and grubby, and exhausted.
Auden has to learn to live without his father, who is away fighting, and has had to move to a new town with his mother, and start a new school, where everyone thinks he's a weirdo.
But when he meets Vivi Rookmini, a smiling girl bright with cleverness, his hopes begin to lift.
It soon becomes clear to Auden, though, that there are some strange things afoot in his new hometown.
He and his mother have moved into the old cottage of his recently-dead uncle Jonah Bloom - a scientist and professor at the university.
The place is in disarray - and although Auden's mother tells him it's because Jonah was a messy old thing, Auden knows differently.
Someone else did this - someone who was looking for something of Jonah's.
Auden had heard too that Jonah was working on something that could cure Auden's condition - could this be it?
Then Auden and Vivi make an extraordinary discovery.
Hidden away under the shed at the bottom of Jonah's garden is an engimatic and ingenious robot, who calls himself Paragon.
A talking, walking, human-like robot. Apparently built by Jonah - but why? The answer to this will take Auden and Vivi on a thrilling journey of discovery as they seek to find out just what exactly Paragon is - and what link he has to Auden - and find that the truth is bigger and more wonderful than either of them could have imagined.
Information
Format:Paperback / softback
Pages:384 pages
Publisher:Bonnier Books Ltd
Publication Date:07/09/2017
Category:
ISBN:9781848126084
Information
Format:Paperback / softback
Pages:384 pages
Publisher:Bonnier Books Ltd
Publication Date:07/09/2017
Category:
ISBN:9781848126084