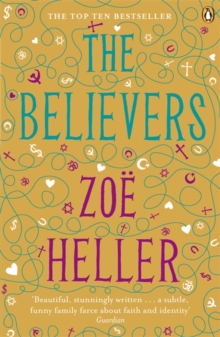 Description
Zoe Heller's darkly comic third novel, The Believers explores a family pushed to its limits.
When Audrey makes a devastating discovery about her husband, New York radial lawyer Joel Litvinoff, she is forced to re-examine everything she thought she knew about their forty-year marriage.
Joel's children will soon have to come to terms with this unsettling secret themselves, but for the meantime, they are trying tot cope with their own dilemmas.Rosa, a disillusioned revolutionary, is grappling with a new found attachment to Orthodox Judaism.
Karla, an unhappily married social worker, is falling in love with an unlikely suitor at the hospital where she works.
Adopted brother Lenny is back on drugs again.In the course of battling their own demons and each other, every member of the family is called upon to decide what - if anything - they still believe in.'Profoundly satisfying.
No other novel would readily stand in its stead . . . pulses with thematic and intellectual content . . . Heller's prose is clean, warm and smart' Lionel Shriver, Daily Telegraph'Astonishingly well-observed and stunningly written, a subtle, funny family farce . . . in its thundering confidence, The Believers is the work of a writer at the top of her game' GuardianZoe Heller is the author of three novels, Everything You Know, Notes on a Scandal, which was shortlisted for the Man Booker Prize in 2003 and The Believers.
The 2006 film adaptation of Notes on a Scandal, starring Cate Blanchett and Judi Dench, received four Oscar nominations.
She lives in New York.
Information
Format: Paperback
Pages: 320 pages
Publisher: Penguin Books Ltd
Publication Date: 30/04/2009
ISBN: 9780141024677
Free Home Delivery
on all orders
Pick up orders
from local bookshops
Reviews
Showing 1 - 4 of 4 reviews.
Review by Intemerata
16/06/2015
I enjoyed this a lot more than I'd expected to: despite the shiny gold cover, it's not fluffy "chick lit", but an absorbing and stylish satire. Most of the characters are utterly horrid - particularly Audrey - but they also feel real. I think, though, that there's too much going on for one book, with the result that it comes across as a bit superficial at times: the stories of Karla and Rosa alone would make a novel, and I would have liked to read more about them.
Review by lizchris
16/06/2015
I looked forward to this more than I enjoyed reading it. I found the main character of Audrey unbearable; she was so nasty that she felt like a stereotype. Zoe Heller has written far more subtle, far better books. If you haven't read any of her work, don't start with this one.
Review by nbmars
16/06/2015
The Believers is a story about an extremely dysfunctional family, the Litvinoffs, made up of two emotionally abusive parents, Joel and Audrey, and three very maladjusted kids, Rosa, Karla, and Lenny. (Rosa and Karla are named for the leftist heroes Rosa Luxemburg and Karl Marx; Lenny was adopted.) The parents picture themselves as paragons of socialist ideology, which to them seems to include a willingness to take drugs in front of their children, deprecating the kids with gutter language, parading their self-hating anti-Semitism like a badge of honor, spewing contempt and anger as an expression of their cynicism, and eschewing compassion and kindness as a bourgeois weakness. In other words, they are absolutely abhorrent, repulsive people.Upon reaching adulthood, the children are a mess, and as their memories of growing up are revealed, it is not difficult to see why. Rosa flits from one trendy ideological commitment to another, in search of an instant moral code that will enable her to live a life "consonant with her convictions" and have a higher power of some sort define who she should be. Karla is in a loveless marriage, the pain of which she dulls with food, and then hates herself (with help from her parents) for being fat. And Lenny is a mooching, worthless drug addict, whose attempts to get his life back on track are consistently undermined by Audrey, who fights not having [abusive] control over any of her children.The story begins when Joel has a stroke, which thankfully reduces his conscious moments in the plot. The rest of the book reveals how the other Litvinoffs will handle the departure of their figurehead, and what, if anything, they will make of their lives.A confrontation between Rosa and Audrey encapsulates the underlying theme of this story. Audrey is excoriating Rosa for her latest ideological foray into Orthodox Judaism. Rosa tries to argue to her mother that she feels the truth has been revealed to her:"But Mom, if it's the truth, it has to be right for me, doesn't it? If you thought you'd found the truth about something, would you walk away from it just because it wasn't the truth you particularly wanted or expected to find?Audrey shrugged. 'I can't answer that. The truth would never reveal itself to me in that way.'…Rosa turned back to Audrey impatiently. 'But what if it did, Mom?' she asked. 'What if the truth did reveal itself to you in that way?'…Audrey turned to her. 'You want to know what I'd do if the truth revealed itself to me and it wasn't the truth I wanted to find?''Yes.'Audrey smiled. 'I'd reject it.'"Discussion: This is a book about emotionally damaged people who are drawn to totalitarian systems of belief so that they are personally absolved of individual responsibility for their choices. They use the belief systems to justify their dysfunctional behaviors; when the quality of their lives suffer, rather than look to themselves, they find fault with their ideological crutches and go in search of others. The characters in this story never learn any lessons about themselves, in spite of well-meaning people who occasionally try to enlighten them. Rather, they are all drawn deeper into their pathologies, until, at the end, they are veritable parodies of people. The difficulty I have is how to evaluate a book in which all the characters are detestable to some degree and none of them are able to change. This does not necessarily reflect a lack of writing skill on the part of the author; indeed, it may be a tribute to her talent. Still, it would be difficult for me to say to anyone "you will enjoy this book."As an introduction to an interview with Zoe Heller on NPR, Maureen Corrigan had this to say:"By refusing to pander, to serve up even one likeable main character, The Believers... raises implicit questions about our readerly expectations about fiction. You may not make new imaginary friends by reading The Believers but, as consolation, this smart, caustic novel reminds readers that fictional friendship can be overrated."I guess I don't agree with that. Evaluation: Why would you want to spend time reading about this horrible family? Audrey has to be one of the most execrable characters in literature I have ever encountered. Joel isn't far behind her. Lenny is detestable, Rosa is an annoying hypocrite, and Karla only looks good in comparison with the others. You keep reading because you fully expect the characters to have some sort of epiphanies but in fact, all but Karla just get worse. It may be good writing, but to me that did not mitigate the painful experience of being with these people! My recommendation? Run in the other direction.
Review by Melanielgarrett
16/06/2015
I've just this minute finished this extraordinary novel, so will need more time to properly gather my thoughts. Although I would recommend it without reservation, I'm not sure I can really say I enjoyed it, so much as admired it enormously. <br/><br/>For the first half I found Audrey's relentless snarking and self-absorbed ranting quite tedious. But by the end I felt delighted to see there was some light on the horizon for her. Equally, at first, every paragraph inside Karla's head, or worse, her marriage, felt somewhat interminable. But as she finally began to emerge from the pitiful self-deprecation, I was rooting for her, and for Rosa, and would happily have followed them both on for another novel.<br/><br/>More than anything, what really kept me going was the sheer force and verve of the prose. I can't think of when I last read writing I've admired this much, or felt moved to make oodles of notes on.<br/>
Also in the Penguin Street Art series | View all