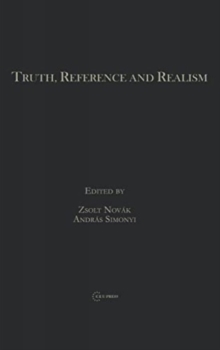 Truth, Reference and Realism
Hardback
Description
The volume presents the material of the first Oxford-Budapest Conference on Truth, Reference and Realism held at CEU in 2005.
The problem addressed by the conference, famously formulated by Paul Benacerraf in a paper on Mathematical Truth, was how to understand truth in the semantics of discourses about abstract domains whose objects and properties cannot be observed by sense perception.
The papers of the volume focus on this semantic issue in four major fields: logic, mathematics, ethics and the metaphysics of properties in general.
Beyond marking an important event, the collected papers are also substantial contributions to the above topic, from the most distinguished authors in these areas (Daniel Isaacson, Ralph Wedgwood, Timothy Williamson (University of Oxford), Nenad Miscevic (CEU, University of Maribor), Howard Robinson (CEU), Ian Rumfitt (University of London)), and four of them were prepared for this volume.
Information
Format: Hardback
Pages: 310 pages
Publisher: Central European University Press
Publication Date: 01/04/2011
Category: Philosophy
ISBN: 9789639776869
Free Home Delivery
on all orders
Pick up orders
from local bookshops