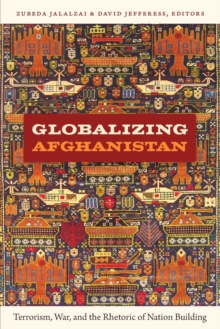 Globalizing Afghanistan : Terrorism, War, and the Rhetoric of Nation Building
Paperback / softback
Description
Globalizing Afghanistan offers a kaleidoscopic view of Afghanistan and the global networks of power, influence, and representation in which it is immersed.
The military and nation-building interventions initiated by the United States in reaction to the events of September 11, 2001, are the background and motivation for this collection, but they are not the immediate subject of the essays.
Seeking to understand the events of the past decade in a broad frame, the contributors draw on cultural and postcolonial approaches to provide new insights into this ongoing conflict.
They focus on matters such as the implications of Afghanistan's lucrative opium trade, the links between the contemporary Taliban movement and major events in the Islamic world and Central Asia since the early twentieth century, and interactions between transnational feminist organizations and the Afghan women's movement.
Several contributors address questions of representation.
One looks at portrayals of Afghan women by the U.S. government and Western media and feminists. Another explores the surprisingly prominent role of Iranian filmmaking in the production of a global cinematic discourse about Afghanistan.
A Pakistani journalist describes how coverage of Afghanistan by reporters working from Pakistan's Khyber-Pakhtoonkhwa (formerly the North West Frontier Province) has changed over the past decade.
This rich panoply of perspectives on Afghanistan concludes with a reflection on how academics might produce meaningful alternative viewpoints on the exercise of American power abroad.Contributors.
Gwen Bergner, Maliha Chishti, Cheshmak Farhoumand-Sims, Nigel C.
Gibson, Zubeda Jalalzai, David Jefferess, Altaf Ullah Khan, Kamran Rastegar, Rodney J.
Steward, Imre Szeman
Information
Format: Paperback / softback
Pages: 232 pages, 13 photographs
Publisher: Duke University Press
Publication Date: 06/06/2011
Category: Asian history
ISBN: 9780822350149
Also in the American Encounters/Global Interactions series | View all