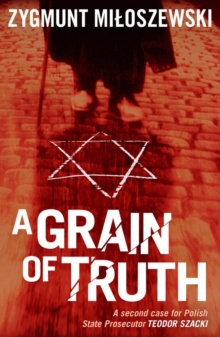 A Grain of Truth
Paperback
Description
It is spring 2009, and prosecutor Szacki is no longer working in Warsaw - he has said goodbye to his family and to his career in the capital and moved to Sandomierz, a picturesque town full of churches and museums.
Hoping to start a "brave new life", Szacki instead finds himself investigating a strange murder case in surroundings both alien and unfriendly. The victim is found brutally murdered, her body drained of blood.
The killing bears the hallmarks of legendary Jewish ritual slaughter, prompting a wave of anti-Semitic paranoia in the town, where everyone knows everyone.
The murdered woman's husband is bereft, but when Szacki discovers that she had a lover, the husband becomes the prime suspect.
Before there's time to arrest him, he is found murdered in similar circumstances.
In his investigation Szacki must wrestle with the painful tangle of Polish-Jewish relations and something that happened more than sixty years earlier.
Information
Format: Paperback
Pages: 368 pages
Publisher: Bitter Lemon Press
Publication Date: 13/09/2012
Category: Crime & mystery
ISBN: 9781908524027
Free Home Delivery
on all orders
Pick up orders
from local bookshops
Reviews
Showing 1 - 2 of 2 reviews.
Review by bcquinnsmom
16/06/2015
Continuing with the excellent writing, plotting and above all the characters he established in Entanglement, Zygmunt Miloszewski has returned with the second novel in his series featuring state prosecutor Teodor Szacki. While the novel gets a little windy ("i" as in "eye") and frustratingly wordy sometimes, the devilish murder plot, the characters and Miloszewski's infusion of humor all make for an impressive read. There is also a darker side to this novel as the author explores the historical interactions of Catholics and Jews in Poland, moving the subject matter into the Communist era and on into modern times where, according to the author, the old legends, fears, guilt, and prejudices can still resonate.When the body, throat slashed and drained of blood, of a beloved member of the Sandomierz community is found in a ravine at the medieval walls of the town, in the middle of what used to be a Jewish cemetery, Szacki is called in on the case. He's no longer in Warsaw, having relocated to Sandomierz after an affair caused the breakup of his marriage; up to now he's found provincial life rather boring living in a city "which was in fact dead after six p.m" and wonders why he threw a carefully-built career in Warsaw away for a few dull cases. But the murder investigation sets all of that aside for the moment. Although he's still a relative newbie, it is Szacki who gets the case precisely because he will come into it with no preconceived notions -- the dead woman was a friend of his colleague, and according to anyone in the town, as near to sainthood as any mortal could possibly be. What Szacki terms a "razor-machete" is found nearby, and it turns out to be a knife used in the Jewish ritual slaughter of cattle. This is problematic -- as fellow prosecutor Barbara Sobieraj notes,"Sandomierz is at the centre of the so-called legends of blood," ... "the capital of the universe for the idea of ritual murder." After two more vile murders are discovered, each with its own link to "ritual murder," the press has a field day, planting the idea of the old legends concerning Jews and the murders of Christian children into the minds of the public. As Szacki notes, "They say that in every legend there's a grain of truth," but is that really the case here?While A Grain of Truth is an entertaining mystery that will keep you turning pages, the author also explores the ins and outs of the Polish legal system, and different aspects of Poland's history: Catholicism, anti-Semitism, Polish resistance both to the Nazis and the Communists, the return of the Jews after the camps, and the effects of Poland's often-troubled past on its present. Even if you're not a history-oriented person, here it makes for interesting reading and, in my case, spurred me to want to know more.Szacki's opinions on topics that range from religion to the media reflect Miloszewski's honed skills as an observer of reality, as do the author's chapter beginnings which look at individual days in 2009 (the year in which the novel is set), setting forth little tidbits of info that happened on that particular day from different parts of the world. These little blurbs range from the funny to the serious, are related in a kind of sardonic wit and generally have some sort of sideways bearing on the action occurring in the chapter. Once in a while, though, the author does trend toward the wordy, but this is such a minor niggle about a novel that is so well written that it's easy to set aside, one I heartily recommend. Do NOT start this series here; you will get more out of Szacki's character and out of Miloszewski's writing by beginning with Entanglement. Readers of cozy-type mysteries probably will want to pass; on the flip side, while it deals with dark subject matter, it's not as edgy as noir, either. If you're a fan of intelligently-written translated crime fiction, though, this one will definitely appeal to you
Review by wulf
16/06/2015
This week I took my first dip into Polish crime fiction with Grain of Truth by Zygmunt Miloszewski. In this country it seems that there is a different division of labour to the British and Nordic jurisdictions where most of my previous "procedural" reading has been based. Instead of being a Detective Chief Inspector, Teodor Szacki is a Prosecutor, which seems to involve working with the police as an investigator but also leading the case for the prosecution in court.The names present a few challenges. I've met quite a few Poles over the years but there are still combinations and even individual letters that are unfamiliar to me. Fortunately I wasn't reading out loud but there were one or two points when I had to apply extra thought to which character was involved in a scene. More irritating was the frequent repetition of the "grain of truth" phrase from the title. I wonder if this is a Polish idiom that loses something in translation?Aside from that though, and the amount of time Prosecutor Szacki spends in bed with various women, it is a deftly plotted book. The final solution fits together elegantly although so did the one before that before you realised that Milozewski had woven his strands in an intricate illusion. I will definitely seize on the opportunity to revisit this author.
Also by Zygmunt Miloszewski