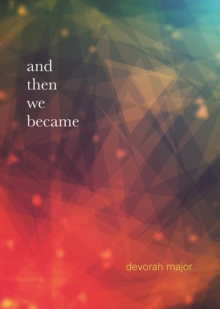 and then we became
Paperback / softback
Description
Top Poetry Books of Fall 2016 - Library JournalWho are we humans, with our differences and our personal histories, mythologies and urgencies, as well as our collective struggles and dreams?
Why are we here?Questions of culture, ethnicity and gender--and the denial of those borders--infuse these poems, rich with social and political commentary, and filled with compassion, love, anger and hope.
Even while writing of one child, one homeless person, one soldier, one war survivor, devorah major connects these individual stories to a contemplation of humanity's place in the cosmos"Four sections of this long-awaited volume: 'spirit', 'other selves', 'fragile', 'whole' reveal a writer and life experiencer at the height of her poetic powers.
Whenever I become too self-satisfied in intellectual games, I find my heart upended by these impassioned verses of humanity and what it means to be fully alive and present.
From 'nommo-how we come to speak' to 'war memories', this former San Francisco Poet Laureate and worldly cosmonaut handles politics, war, and love in equal measure as the best poets of the people do.
Pablo Neruda. Bob Kaufman, June Jordan. Wanda Coleman. Ears to the ground and eyes to the sky."--Giovanni Singleton"In and then we became, devorah major steps out of the way and allows creation to craft creation.
The structures and paints of her descriptions have incredible range of effect: the ascension into the first history a free people teach, the short story perceived through possession, the melodic start-stop motion of a debilitated life, the flash of your torturer's dream; all part of a collaged panoramic of spirit and flesh.
She is at home in all dimensions of her subject. The voices of this work walk straight toward you holding out moments of violence, lament, beauty, and invincibility for you to embrace, offering a face to become your own."--Tongo Eisen-Martin, author of Someone's Dead Already"devorah major remains one of our premier storytellers.
She wraps myths and headlines, family lore and visions in language that is both delicate and tough, enticing us to dive in even though the poem she serves up may have dangerously sharp edges.
Her poems eagerly call forth the African deities who give her voice as she wrestles with the mysteries of this plane from why a woman may want to be a soldier to how we learn to love.
These poems are like prayers to which you return each night."--Jewelle Gomez, author of The Gilda Stories and Name Poems"I hate to turn on the radio each morning where I hear that men haven't changed, staying in office for generations and generally acting the fool. devorah major uses the many voices of women to explore a world that we know less about than the oceans of Enceladus.
The great thing about devorah's book is that we can't interrupt as she rolls out the indictment poem by poem."--Ishmael Reed"major's book could not have come at a more appropriate time as now when the clamor of despair is being spoken into the universe.
But as many of us know, these are also times for listening to our hearts and minds and doing what's right for the greater majority, the global world of which we are a part.
Reading and really reflecting on the messages in these poems will help us to become our better selves."--Opal Palmer Adisa
Information
Format: Paperback / softback
Pages: 88 pages
Publisher: City Lights Books
Publication Date: 15/11/2016
Category: Poetry by individual poets
ISBN: 9780872867260
Free Home Delivery
on all orders
Pick up orders
from local bookshops