Action & Adventure DVD & Blu-ray
Here we are proud to showcase DVD and Blu-ray titles from one of our most popular movie genres. You'll find all the bestselling films from new releases to our back catalogue of classics, all on DVD and blu-ray. From fun children's adventure films to those edge-of-your-seat action box office hits and everything in between.
Bestselling Action & Adventure Films
Explore more Action & Adventure DVD and Blu-ray
Browse Popular Action & Adventure Movies and TV Series
Action & Adventure
Features
Recently Released Bestseller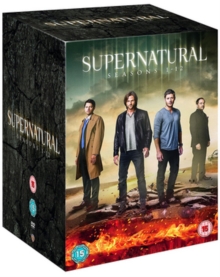 Every episode from the first to twelfth seasons of the American fantasy drama about two brothers who battle supernatural forces.
Sam and Dean Winchester (Jared Padalecki and Jensen Ackles) were raised to fight the paranormal by their father, John (Jeffrey Dean Morgan), after their mother was killed by a malevolent demon.
Bound together by blood and tragedy, the brothers spend their lives battling a...
Coming Soon