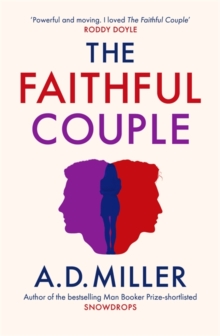 The Faithful Couple
Hardback
Description
California, 1993: Neil Collins and Adam Tayler, two young British men on the cusp of adulthood, meet at a hostel in San Diego.
They strike up a friendship that, while platonic, feels as intoxicating as a romance; they travel up the coast together, harmlessly competitive, innocently collusive, wrapped up in each other.
On a camping trip to Yosemite they lead each other to behave in ways that, years later, they will desperately regret. The story of a friendship built on a shared guilt and a secret betrayal, The Faithful Couple follows Neil and Adam across two decades, through girlfriends and wives, success and failure, children and bereavements, as power and remorse ebb between them.
Their bifurcating fates offer an oblique portrait of London in the boom-to-bust era of the nineties and noughties, with its instant fortunes and thwarted idealism. California binds them together, until-when the full truth of what happened emerges, bringing recriminations and revenge-it threatens to drive them apart.
The Faithful Couple confirms Miller as one of the most exciting and sophisticated novelists in the UK - someone who can tell a great story, with a sense of serious moral complexity.
This is that rare bird: a literary novel with mass appeal as well as the potential to win prizes.
Information
Format: Hardback
Pages: 288 pages
Publisher: Little, Brown Book Group
Publication Date: 05/03/2015
ISBN: 9781408705902
Other Formats
Paperback from £7.85
EPUB from £4.99
Free Home Delivery
on all orders
Pick up orders
from local bookshops
Reviews
Showing 1 - 1 of 1 reviews.
Review by KateVane
27/08/2015
Two British men in their early twenties meet in a backpacker's hostel in California. They are both alone and despite - or perhaps because of - their different backgrounds, they form a friendship and travel on together. Then something happens - no spoilers so I won't say what - which both tests and deepens their friendship.They return to London where Adam - child of privilege - is beginning a career in television while Neil - son of a shopkeeper - is going nowhere, working in his dad's stationer's and living at home. The novel follows their friendship over the years as their lives change in ways you might not expect, against a backdrop of Blairite politicking and the dotcom bubble.It's a moderately interesting look at London over two decades, the nature of money, power, class and male relationships. We see how the two men negotiate love (familial and romantic) and responsibility. But the event that is supposed to shape the narrative and their lives, the thing-that-happened-that-I-can't-mention, does not, for me, carry that weight. I wasn't convinced that they would care about the thing that much, even if they should. And even if they do care about it, it's questionable how far it actually influences their behaviour.As the book progresses, it becomes quite repetitive. One of the two men experiences some change in their life. This leads them to consider the thing-that-happened afresh. They may or may not discuss the thing. At a certain point there is another thing-I-can't-mention which feels contrived and thrown in only to give the plot some impetus. There are some more relationship dramas, then an ending which I'd also better not mention but which for me was abrupt and unsatisfactory.There was some atmosphere in this book and a sense of time and place. The interplay between the two main characters, and the shifting power dynamics, were interesting at the beginning. But for me the story drifted and the characters needed a stronger theme to sustain them.